Return to blog
Connectivity for Remote Work
Should You Hire a Digital Nomad?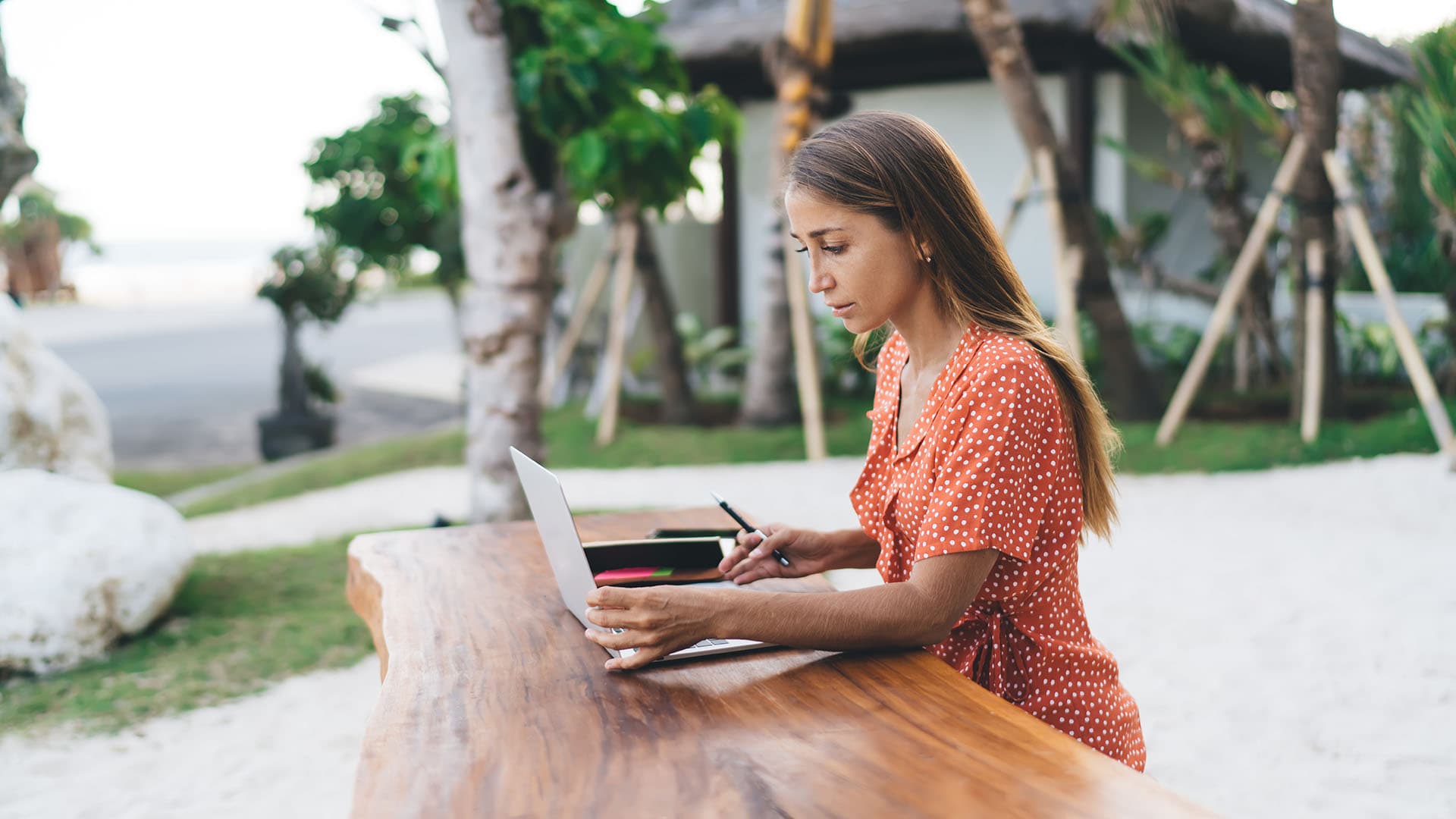 Recruitment can be a tough challenge for growing companies, especially in a competitive labor market.
A digital nomad might be part of your solution, it can mean finding someone with the right skill-set but within a more affordable salary range. It will mean you might need to make some adjustments to how you manage staff.
We've discussed previously how the pandemic forced a rapid change in workforce structure and facilitated staff to work from home. Now it's looking like this has resulted in a more permanent change to the decentralization of the workforce.
A combination of workers enjoying more freedom in where they work, and companies discovering that 'work from anywhere' can be just as efficient for teams, has led to an uptick in the number of employees looking to work remotely more permanently, or resigning from jobs and choosing to work as traveling freelancers or contractors, also known as digital nomads.
Digital nomads are no longer outliers. A recent MBO report stated that there has been an almost 50% increase in US workers reporting as digital nomads, up more than three million in 2020 alone.
How will this shift in more workers wanting to be location independent impact your company? Can you benefit from choosing to hire digital nomads? And, if you do, how should you prepare for this?
You might be wondering, are staff who work from home digital nomads? Let's clarify a little about what exactly a digital nomad is, and how they differ, in general, from staff who work from home instead of coming into the office.
What is a digital nomad, and how do they differ from a remote worker?
In a traditional sense, a nomad was someone with fixed abode, a wanderer who preferred moving from one place to the next rather than be in one location. The rise of the internet-based economy has driven much more functionality into the Internet (vs material fulfilment, for example), freeing workers to move anywhere they please, nationally or internationally, while continuing to work. They became known as digital nomads and in the early days, were a major headache for any business trying to accommodate their wanderlust while maintaining network security, personnel management, payroll compliance, and importantly, productivity.
However, when the pandemic really took hold in 2020, many companies were forced to allow for employees working away from the office. These employees did not automatically become digital nomads; it would be more accurate to describe them as remote workers.
In time, some of these remote workers chose to adopt the digital nomad lifestyle while many other employees were content to remain as remote workers, and return to the office when it was safe and practicable to do so.
Aside from needing to switch to online communication and video conference tools for what were previously in-person meetings, not a lot changed for remote workers. The hours they worked, their salary, benefits and reporting line remained largely unchanged.
Things are quite different for digital nomads, particularly when they travel to countries outside the US, and are working in different time zones.
Some questions employers might have when it comes to digital nomads are:
Are there productivity tools we should use both to monitor and assess the productivity of our digital nomads?
What data security measures do we need for digital nomads logging in to our business network?
How do our payroll obligations change, and how do we pay digital nomads? Should we outsource this to a company that handles international workers?
What are the tax implications? Are there corporate obligations to employees (including 401K and health insurance plans)?
What is the corporate responsibility and liability for them if they get sick overseas or cause damage? What do our corporate insurance policies indicate on these matters? (Contact your HR department)How will we decide who can be a digital nomad so it's fair for everyone?
If the arrangement no longer suits us, can we require the digital nomad to return to the office?
As you can see a digital nomad is quite different from just an employee working from home, either permanently or a few days in the week. There's a bit more work involved in setting up a framework for digital nomads so that the company isn't adversely affected, and there is consistency for all parties concerned.
So, is it worth the extra effort to allow for digital nomads in your business? Let's look at a few benefits of hiring digital nomads (or allowing existing staff to become digital nomads).
Unlock lightning-fast 5G internet almost anywhere
Why hire a digital nomad?
While there is more work, particularly initially, in setting up your business for digital nomads there are some significant advantages.
Reduced recruitment costs — Making your business digital-nomad friendly automatically checks a box that many quality candidates are looking for, particularly at the moment where some businesses are proving to be inflexible about where employees work, and requiring them to return to the office. This means you won't have to work as hard, or advertise as much, to find talent. You may also be able to offer a lower salary package and still be competitive.
Larger pool of candidates — Because location is not important, you can draw on a much larger pool of potential employees, making it more likely you'll find the right person for the job, possibly while paying less and enjoying greater diversity and talent in your workplace.
Lower labor costs — With digital nomads being able to take advantage of geo arbitrage (a lower cost of living in a different part of the world while receiving a salary from a country with a higher cost of living) they may be more willing to accept a reduced salary in exchange for the freedom of working wherever they want.
Higher job satisfaction — Employees want more than a paycheck and allowing them to be a digital nomad, for some people, contributes massively to their overall satisfaction on the job. Greater satisfaction leads to overall better performance and better staff retention.
In addition to some of the benefits of hiring a digital nomad, you're also working towards future proofing your company as our workplaces continue to become more digital and move online.
Preparing your business to be digital-nomad friendly
So, you've made the decision to allow for digital nomads in your business. What are some next steps?
Develop a Digital Nomad Policy — Work with your management team to draft (or update) a policy that covers all the legal and practical requirements for digital nomads. You may need to get outside assistance from someone who specializes in this area.
Provide support for managers, payroll and accounting staff — Any changes to how digital nomads are paid will need to be understood by digital nomads are paid will need to be understood by accounting staff. 3rd-party service providers can help, and may also be able to advise on tax requirements, particularly for the international nomads. Managers may need help to adjust their management style for digital nomads to foster a successful working relationship.
Prepare your network — To mitigate any threats that might arise with digital nomads accessing your network from a range of different locations (from coffee shops and libraries to foreign countries with varying degrees of internet security) make sure your network connections are secure and prepared to defend against possible data breaches.
Improve connectivity — Inseego offers a range of connection options that allow for fast internet connectivity using 5G, even in remote areas, including the Wavemaker 5G outdoor CPE FW200 Series.
Manage mobile devices — Improve the manageability and security of any company mobile devices connected to your network with Inseego Connect, which offers a range of benefits including remote support, automatic updates and real-time device monitoring.
With the right planning and the new solutions available to support location-independent working, you'll be set to take advantage of the benefits of adding digital nomads to your workforce.