Fleet Driver Management System
Boost driver safety and productivity
Boost driver safety and productivity. Identify opportunities to improve driver safety, automate reporting and reduce risk by leveraging your real-time driving data.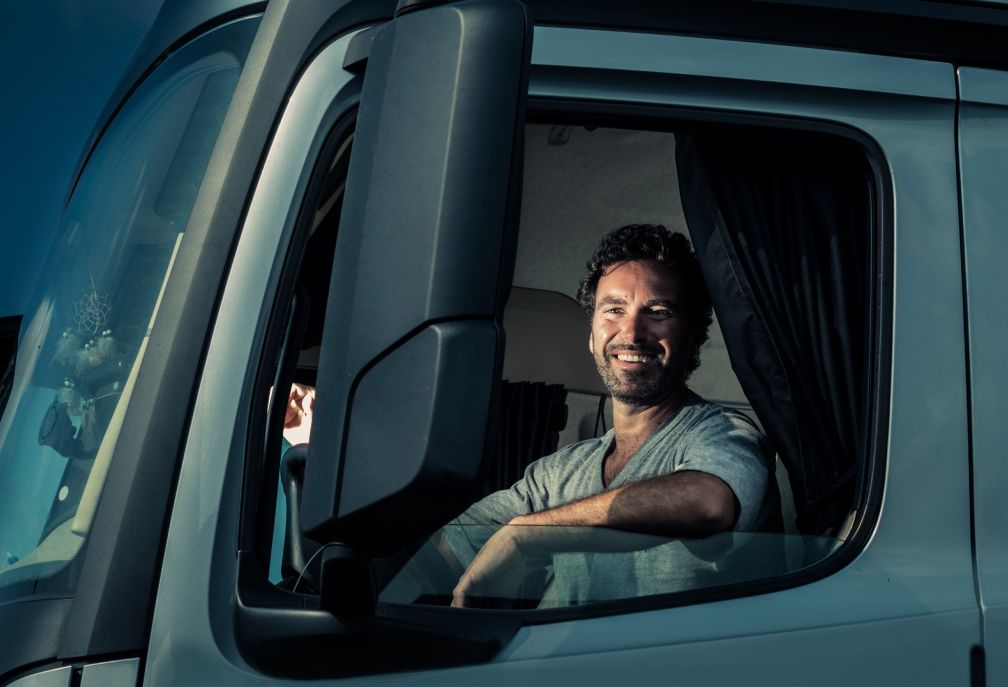 Fleet Driver Management System
Boost driver safety and productivity
Boost driver safety and productivity. Identify opportunities to improve driver safety, automate reporting and reduce risk by leveraging your real-time driving data.

Reduce paid hours with driver reporting
Trip and utilization reports highlight where and how your teams are spending their time. You'll see ways in which trips, drivers and jobs can be reorganized to minimize paid hours and reduce downtime, or the need for overtime.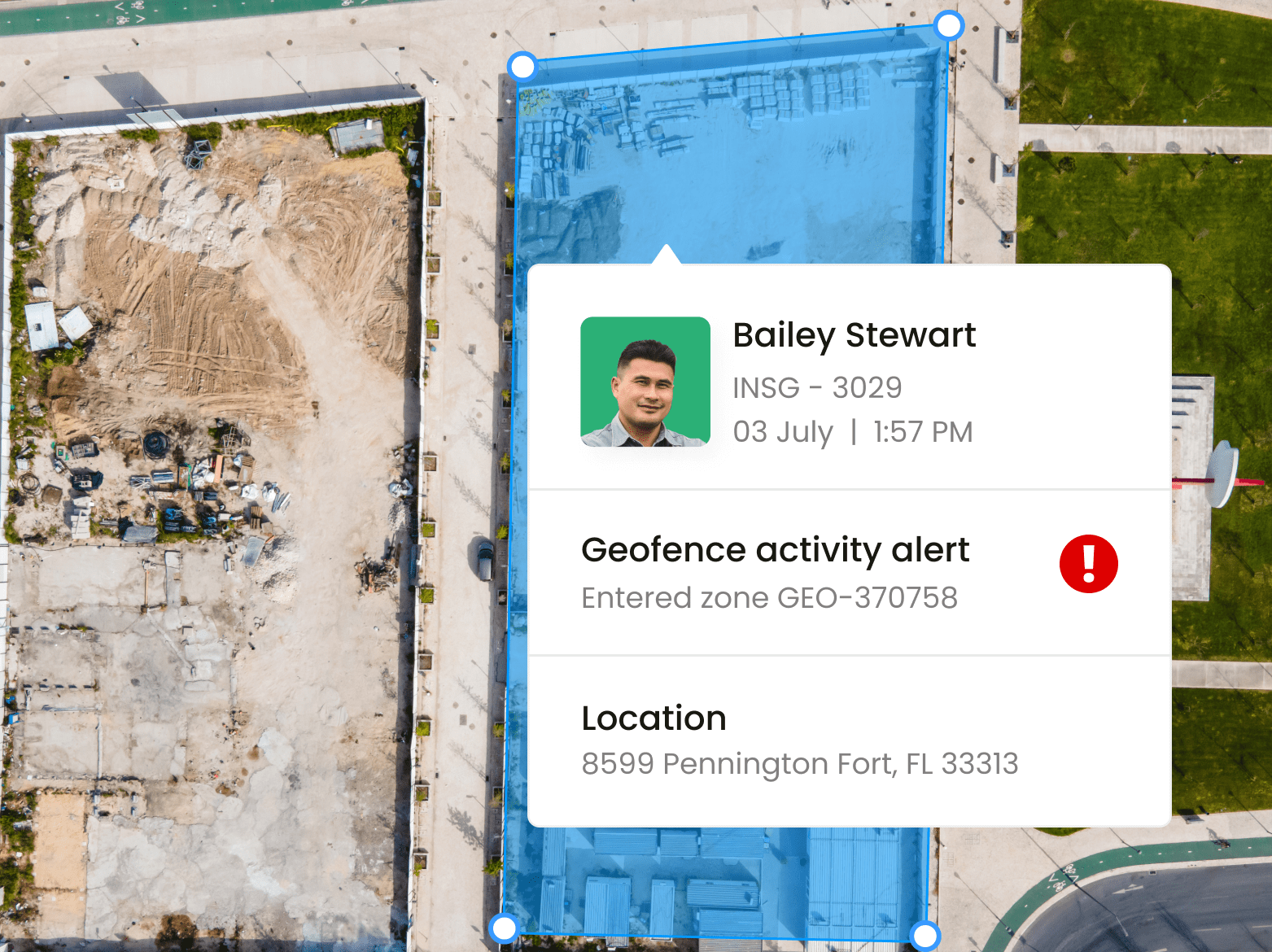 Get accurate time on-site with geofences
See when drivers' vehicles are entering and leaving areas that are of interest to your business. This makes it easier to determine job costs, streamline bidding on future jobs and calculate worker timesheets. You can also report on visits to unauthorized locations.
Re-watch driving incidents with dashcams
Road-facing and driver-facing cameras (or dashcams) add valuable context around driving incidents, giving you proof of liability and providing training opportunities for your team to improve fleet safety. Video clips are automatically uploaded and classified within minutes of a driving incident occurring.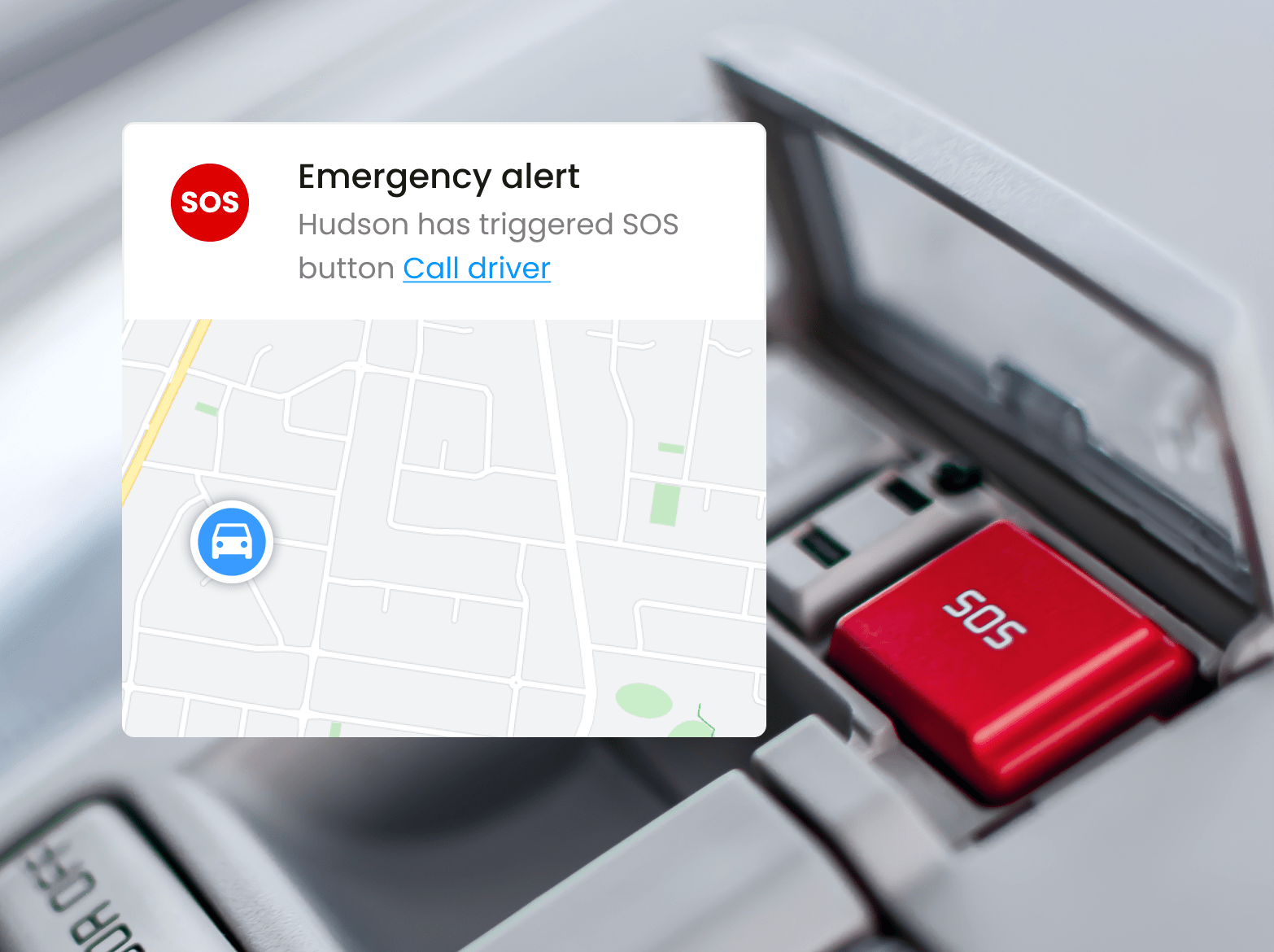 Driver SOS with one-touch panic button
With the press of a button, your drivers can let you know if they have an emergency situation. Our panic buttons can be installed in a concealed location, giving easy access to the driver, while remaining unseen by others in the vehicle.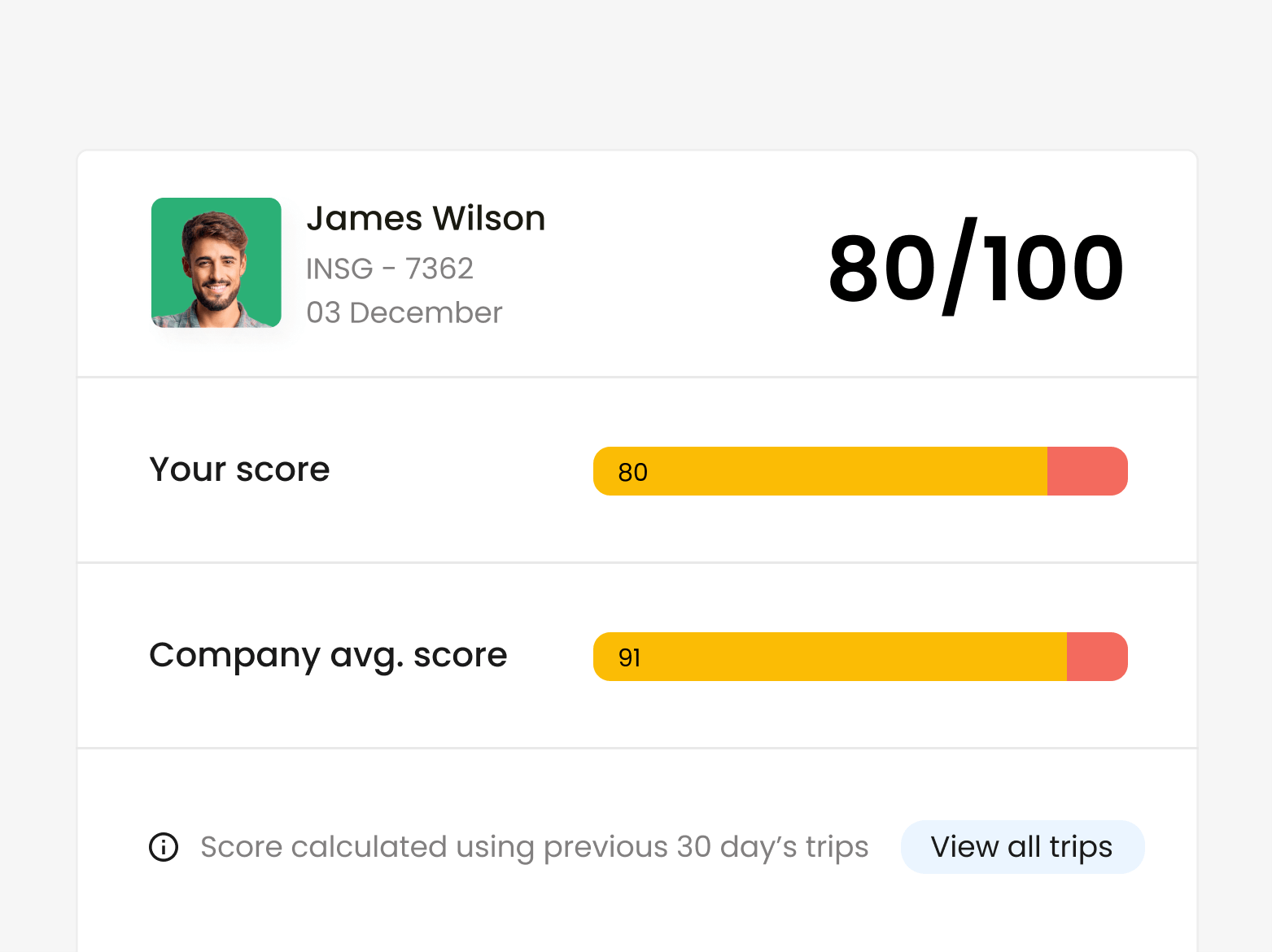 Let drivers self-manage with Inseego Driver
Our mobile app allows drivers to monitor their performance and driver safety record. They can use this to self-correct and improve driving habits without manager intervention, and even compete with other drivers.
Replay any trip and see exactly what happened
With one click you can watch any trip unfold: when a driver left, the route they took and everything in between, such as speeds driven and harsh driving events that occurred. This lets you effortlessly optimize route planning, reduce fuel costs, verify customer jobs and more.
A telematics partner committed to faster ROI
We work alongside you every step of the way to plan and deploy your telematics solution (including fleet tracking, route optimization and driver management software), and achieve a positive ROI as soon as possible. Get technical support, training (remote or on-site) and assistance with integrating our platform into other parts of your business (such as fuel cards) using APIs.
Custom-fit or out of the box
Whether you're a small business, a growing enterprise or a large government fleet, Inseego offers you the choice of ready-to-use driver management software or a solution that can be customized and scaled to meet the unique needs and size of your organization.
Frequently asked questions
Is the GPS tracking hardware visible to drivers?

The GPS tracking device is installed behind or beneath the dashboard so it is not visible to the driver. It is also very difficult to remove or tamper with, even if it is seen.
Are the tracking devices tamper-proof?

GPS tracking devices are installed discreetly and, in some cases, wired directly into a vehicle, making them difficult to locate and access.

In the event that an attempt is made to tamper with a device, the GPS reporting system identifies the vehicle and steps can be taken to make sure it is working and reporting correctly.
How do I introduce a driver management system to my drivers?

This is an important first step in ensuring the successful deployment of fleet management software and driver performance applications. Honesty and transparency will help clear up any misunderstandings about apps to monitor driving habits, while maintaining driver retention.

First, try to anticipate what questions they may have about driver management software. Some questions they may have include: Does management not trust us? Will it be used to punish or overwork us? Is it legal? Is it fair? What information is being collected, and will we have access to our data, such as safety scores and other driver metrics?

While driver management systems are commonly used across both private and public fleets, drivers will want to know how the technology will apply to them specifically. Reassure them that the focus is on improving overall business efficiency by simplifying management, automating paperwork and reducing operating costs.

Driver management software helps employees too, in several ways:

Creating a more profitable business increases job security
A driver's safe, efficient performance behind the wheel can now be proved (and rewarded) with GPS reports
Vehicle location trackers can minimize the need for paper logbooks (HOS) and reports
Supervisors can now track vehicles and see fleet activity in real time, improving coordination of resources and reducing interruptions to drivers with 'where are you' calls
Drivers can monitor and self-manage their safety performance
Managers can protect drivers from false damage claims or liability in the event of an accident
Location data can help speed up emergency response
Tracked maintenance information for vehicles can reduce the chance of breakdowns

Work with your team to develop fair policies that improve adoption and reduce the chance drivers will feel 'picked on' or that it is an invasion of their privacy.

Inseego consultants can help you to roll out driver management software across your business, with advice and suggestions on ways to implement solutions that are best for you, your business and your drivers.
Will I be overwhelmed with system alerts?

While there are a lot of alerts you can configure in our driver management system, you don't have to worry about being overwhelmed with notifications.

The system can be customized to manage what alerts you get, how many are received and who gets them.
How do I know if driver management software is right for my business?

If your business has company drivers then driver management software is definitely something you should consider. A driver management solution can help improve driver behavior, driver safety and fuel consumption, and automate business workflows.

Without driver management software, a business can be at risk of dangerous driving, more costly infringements, increased fuel usage and accidents. You also miss the opportunity to use this telematics data to identify areas of your fleet operations that can be optimized, boosting productivity and reducing running costs.
Why should I choose Inseego over other providers?

Inseego is a global leader in SaaS (Software as a Service), IoT (Internet of Things) and mobile solutions, which means our products are backed by a wealth of experience and expertise in the telematics industry.

Inseego can provide you with a ready-to-use fleet management solution, or customize one to the specific needs and size of your business. We work alongside you as a telematics partner to maximize your ROI.
How do I get started?

Getting started is easy. Contact us today, let us know a little bit about your fleet and what you would like to achieve. One of our consultants will be in touch to explain how our driver management system works, and give an overview of the installation process.

You can also request a free demo of the driver management software so you can see it in action.

Our telematics consultants have experience with a wide range of different industries and fleet sizes, and can suggest what features and functions are best suited to your business.
How does installation work?

Part of setting up driver management software involves installing GPS tracking devices on vehicles (cars, trucks etc.).

The Inseego installer network covers both metro and rural areas. Appointment times are flexible, so you can schedule an installation time that minimizes any disruption or downtime for your business. (Allow approximately one hour for installing a basic GPS tracking device.)
Will I receive support and training?

Yes, Inseego is committed to working alongside you as a telematics partner, to help you maximize the benefit and ROI of your new driver management solution. We offer a range of support and training services, designed to fit the needs of your business and help your staff integrate the software with their daily processes.

Support and training options include:

Help desk for fast and ready access to technical support
Remote support to diagnose, troubleshoot and resolve technical issues
On-site or remote training workshops to upskill staff

Adding new technology to your business can create some anxiety. Our support and training services are designed to make the process of implementing GPS tracking as seamless and trouble-free as possible.
Can I add more vehicles in the future?

Yes, you can update your plan to include additional fleet vehicles (or other GPS tracked assets) at any time.

Simply contact us and we'll organize the change, scheduling the installation of the tracking devices if needed.
What GPS tracking hardware can be supplied?

For most vehicles, a standard, wired OBD2 (or OBD-II) plug is fitted, however other types of GPS tracking devices are available including battery-powered trackers for non-powered assets such as containers or trailers.

Let us know if you have specific data collection requirements. In most cases the standard GPS tracking hardware is sufficient for the needs of everyday fleet management.
Is a driver management system expensive?

Pricing for a real-time driver management system depends on the specific requirements of your solution, and the number of drivers to be tracked.

Our product specialists will work with you to understand your business requirements and recommend the most suitable solution for you. You also have the option to purchase the hardware, or rent if that suits your cash flow better.

Inseego is focused on delivering a positive ROI through savings on fuel, better vehicle maintenance, improved efficiency, and more. This means that in time the solution can pay for itself, making it a smart and affordable option for your business.