Fleet Dash Cam Solutions
AI dash cams for complete visibility
Resolve disputes, coach drivers and mitigate risk with industry leading artificial intelligence powered fleet dash cameras.
Keep drivers safe and protect your business
Improve driver safety and security with dash cam video footage, providing valuable context to any incidents, as well as protecting your business reputation against false claims. Get a full 360-degree view with a full range of cameras including road facing dash cams, driver-facing and reversing cameras.
Minimize distracted driving with active monitoring
Distracted driving is a major factor in many commercial vehicle accidents. Active video monitoring can help drivers respond quickly to potential danger with an audible in-cab alert when it detects risky driving behavior.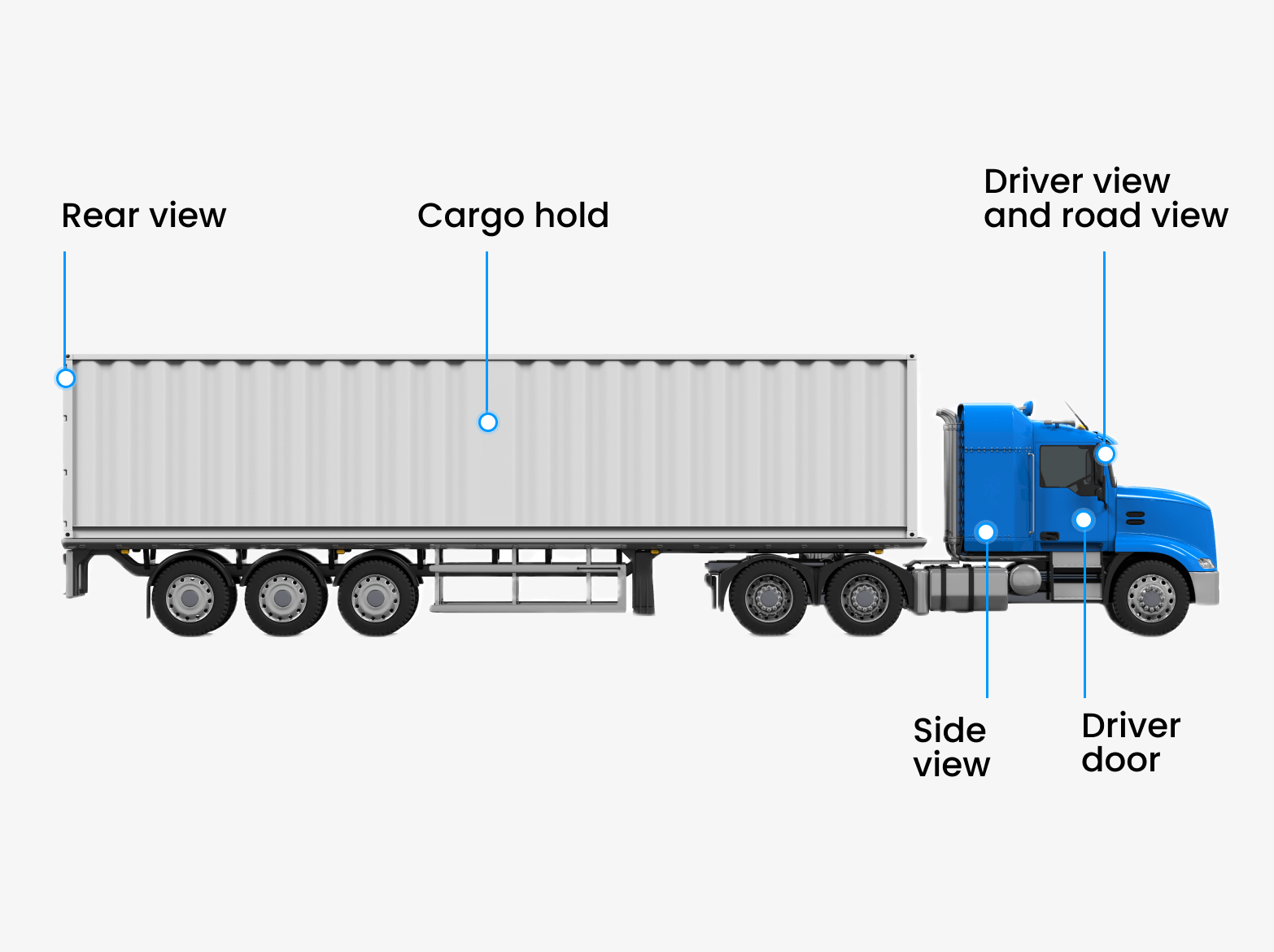 No more blindspots with a full 360° view
Cover every angle including driver-facing cameras, front-facing , wide-angle, low-light or night vision, side or rear view facing cameras. Install the best dash cams to monitor the key aspects of the fleet vehicle, driver or loading points. Robust, weatherproof fleet dash cam solutions and installation to match the needs of your vehicles and driving conditions.
Key features
Effective tools for improving fleet safety
Coach drivers using their own video footage
Automatically tagged and categorized video clips provide an instant library of reference material for 1-on-1 driver coaching  or group sessions. This commercial dash cam footage can then be an important part of a fleet safety program that helps drivers improve their performance behind the wheel.
Customized alerts and notifications
You can configure the dash cam system to alert you only for specific events (collisions, idle time, harsh braking, speeding, etc.). This allows you to choose to focus on the incidents that are more urgent for you, and require more immediate attention.
Save time with filtered notifications
Manage more efficiently with a video telematics system that only sends you events you're interested in, rather than every bump in the road. Choose events such as speeding, harsh braking or swerving, and have them automatically emailed to you.
Updates with zero disruption
Benefit from all the latest features available for your dash cam solution, with automated Over-the-Air (OTA) updates. OTA updates can be done without changing your camera hardware or bringing the vehicle in for servicing, minimizing disruption and saving time.
Why are fleet dash cams good for my drivers?
Drivers face a lot of stressful situations when they're out on the road, including poor driving that can lead to them being involved in accidents. Video evidence from AI dash cams can exonerate a driver quickly and without any doubt. With full 360-degree camera coverage, drivers can enjoy more peace of mind, knowing that they can be cleared quickly of any wrongdoing in no-fault incidents.
Live streaming to get the full story
Access a live, high-quality video feed and get more insight on what's happening out on the road. Follow up on dangerous driving alerts to check driver safety and situational context. Verify security alerts to check that vehicles and cargo are protected from theft.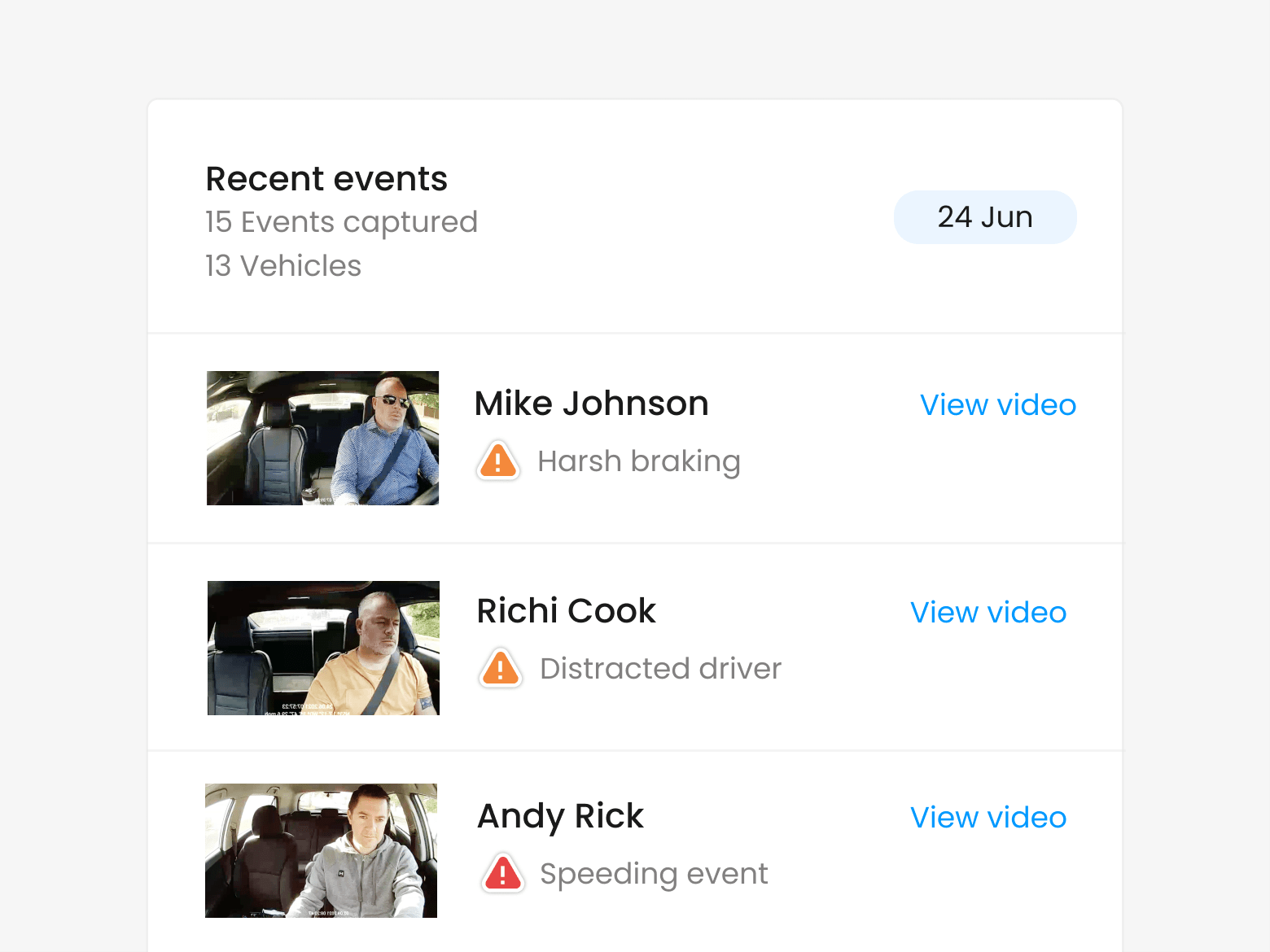 Accessible, cloud-hosted video footage.
Our cloud-hosted telematics solution automatically tags your video footage to make it fast and easy to access specific video clips based on time and incident type, without having to download gigabytes of files. Fleet managers can find exactly what they need to better understand any part of a vehicle's journey.
Frequently asked questions
What events trigger the dashboard camera?

Video will be automatically captured and classified for the following event types:

Panic button pressed
Harsh acceleration / jack-rabbit starts
Harsh braking
Harsh cornering
Speeding
Distracted driving
Camera tampering
Driver is smoking
Driver eating or drinking
Driver is using a cell phone
Driver is not wearing a seatbelt
How soon are videos available for unsafe driving events?

Video footage is available to view (or download) within five minutes, in most cases.
Is the vehicle's speed shown on the video footage?

Yes, you can see the speed of the vehicle in the corner of the video while it is playing. This provides added context when reviewing any driving event.
Can videos be downloaded?

Yes, video files can be downloaded and saved to your computer.
Can I download footage manually, during a specific date and time?

Yes, with continuous video recording while the vehicle is in use, you can easily specify the date, start time and stop time of the video footage you want to view. This video can then be shared or downloaded.
How do the cameras help with driver safety?

Reviewing recorded video of harsh driving events lets you better understand why a driver is making a quick turn, hard stop or accelerating too quickly. This additional context helps you to coach drivers and improve future driving behavior.
Can dash cameras help to get a discount on my insurance premiums?

Dash cams and vehicle video camera systems promote safer driving and extra security. Talk with your insurance company  to find out if this qualifies you for cheaper insurance premiums or lower excesses on insurance claims.
How do I know if fleet tracking is right for my business?

If your business has money invested in mobile assets — vehicles, people or assets — then GPS fleet tracking is definitely something you should consider. GPS vehicle tracking solutions help you make sure you are using all your mobile resources efficiently.

Without a commercial fleet tracking system, a business could be losing money with under-utilized assets, wasteful driving behavior or poor job scheduling. GPS fleet tracking makes it easy to identify areas of your business that you can optimize, boosting productivity and reducing running costs.

Fleet tracking can also promote  safe driving, monitoring driver behavior in real time and encouraging staff to be more responsible.
Why should I choose Inseego over other providers?

Inseego is a global leader in SaaS (Software as a Service), IoT (Internet of Things) and mobile solutions, which means our products are backed by a wealth of experience and expertise in the telematics industry.

Inseego can provide you with a ready-to-use fleet management solution, or customize one to the specific needs and size of your business. We work alongside you as a telematics partner to maximize your ROI.
How do I get started?

Getting started is easy. Contact us today, let us know a little bit about your fleet and what you would like to achieve and one of our consultants will be in touch to explain how our GPS fleet software works, and an overview of the installation process.

You can also request a demonstration of the fleet tracking software so you can see the GPS tracking in action.

With experience in a wide range of different industries and fleet sizes, our telematics consultants can suggest what features and functions would suit your business best.
Will I receive support and training?

Yes, Inseego is committed to working alongside you as a telematics partner, helping you maximize the benefit and ROI of your new fleet management software. We offer a range of support and training services, designed to fit with the needs of your business and help your staff integrate the software with their daily processes.

Support and training options include:

Help desk for fast and ready access to technical support
Remote support to diagnose, troubleshoot and resolve technical issues
Onsite or remote training workshops to upskill staff

Adding new technology to your business can create some anxiety, but our support and training services are designed to make the process of implementing GPS tracking as seamless and trouble-free as possible.
Can I add more vehicles in the future?

Yes, you can update your plan to include additional vehicles (or other GPS tracked assets) at any time.

Contact us to let us know when you need to add more devices and we'll organize the change, helping you schedule a fast and convenient installation.