5G fixed wireless access that can be deployed in minutes
Get fast, reliable, secure broadband internet almost anywhere — without the wires.
5G fixed wireless access that can be deployed in minutes
Get fast, reliable, secure broadband internet almost anywhere — without the wires.
Built for every business
Whether you have a global network, a large campus, a small office, or you are working from home, Inseego Wavemaker™ fixed wireless solutions keep your business connected and secure. Benefit from the power and flexibility of 5G; with a wide range of purpose-built 5G devices, that are ideal for indoor and outdoor locations in urban, suburban, and rural areas.
Secure device management with Inseego Connect
Designed and developed in the U.S.
Multi-gigabit speeds* that can outperform typical cable connections
CBRS certified (Band 48) for private LTE and private 5G networks
How it works
Fixed wireless access (FWA) services use cellular data (4G LTE and/or 5G) to provide high-speed broadband access to a home or office, without the need for cables.
Using a 5G outdoor CPE or 5G indoor router results in high speeds, low latency, and overall performance equal to, or better than, traditional cable, xDSL, or fiber connections.
Inseego hardware can amplify the strength of your 5G connection with high-gain directional antennas, helping to improve the speed and reliability of your network connection, even in remote locations.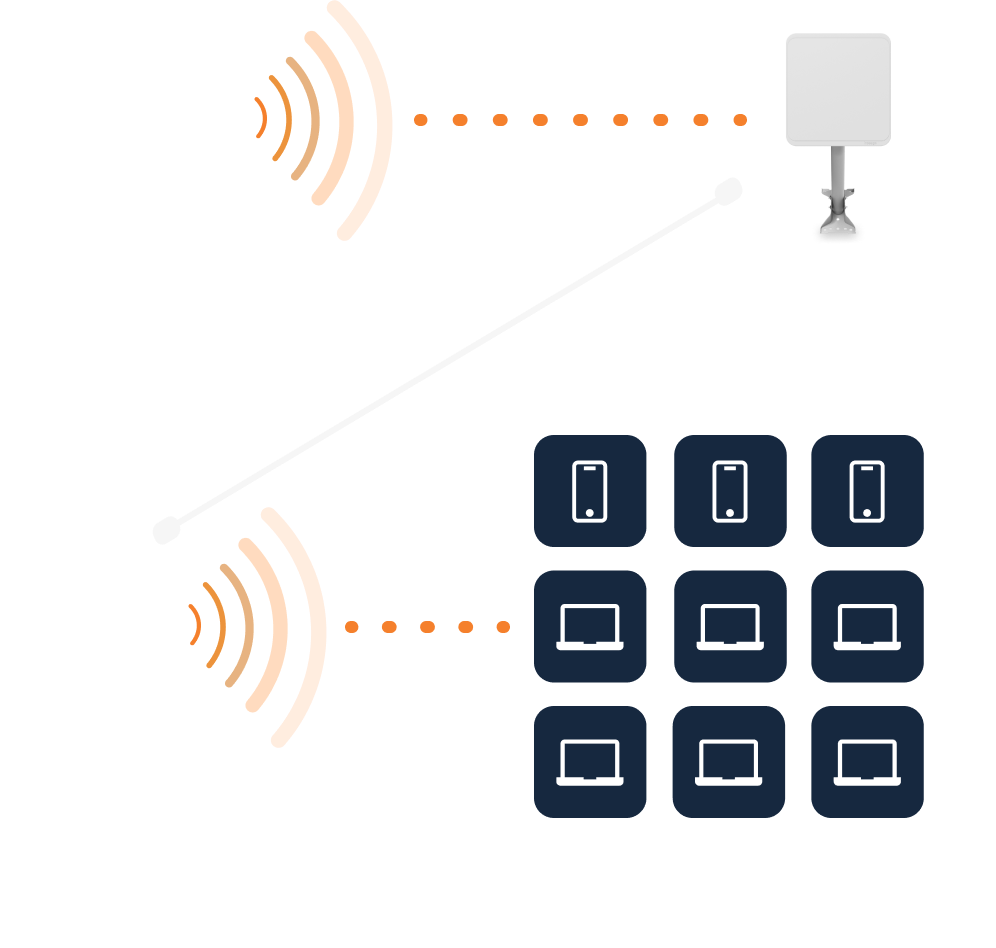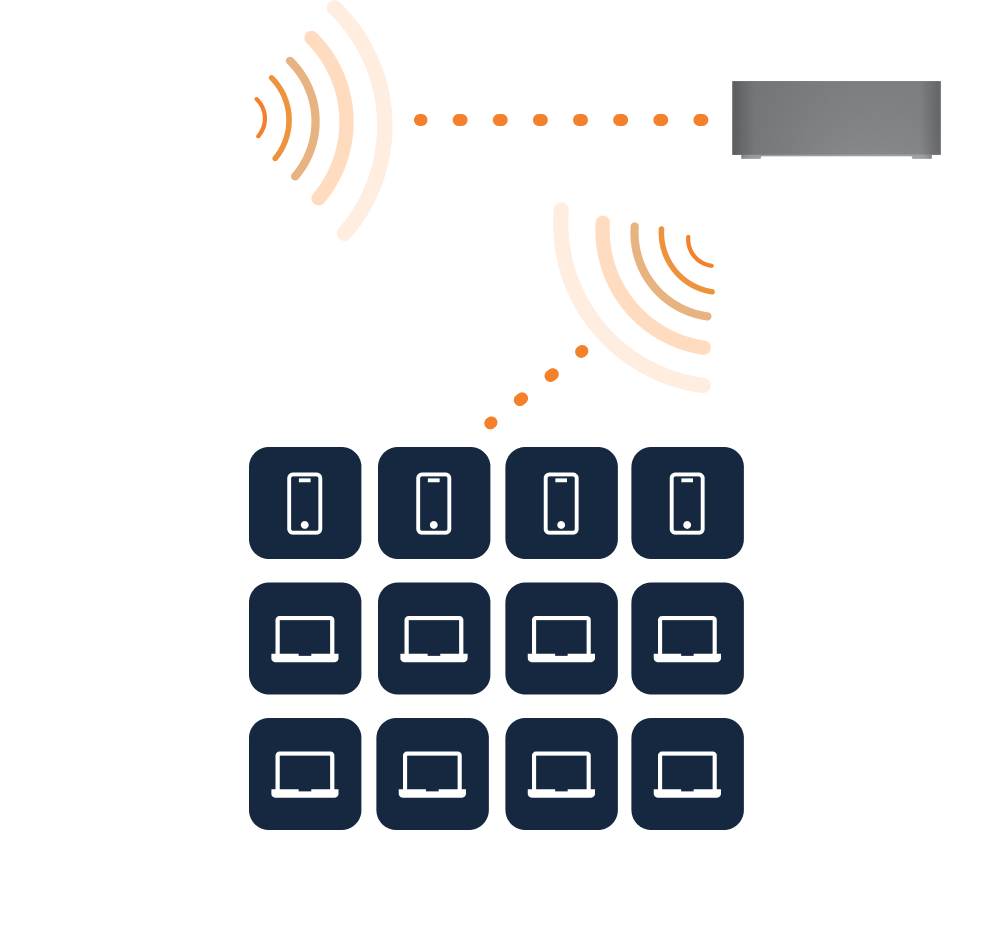 Advanced security at every level
Built with components from trusted suppliers
Rigorous, third-party security testing
Inseego Manage subscription services include OpenVPN, access control, end-to-end device security, active threat detection, mitigation, alerts, and more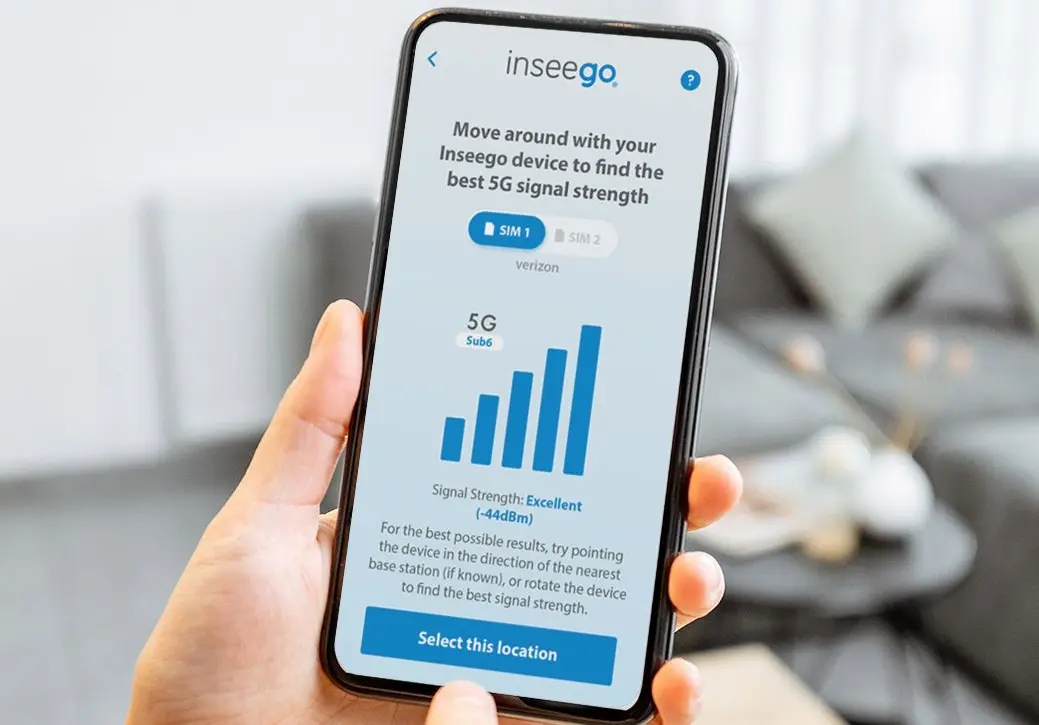 Quick and easy set up
Plug and play indoor routers for rapid and cost-effective deployment
Outdoor CPEs are easy to install, with a range of mounting options available
The Inseego Mobile App is available to assist users to find the optimal position for installation, monitoring performance, and help troubleshoot any issues
Use the Inseego Mobile App to find the best location for your device
Manage all your Inseego devices from anywhere
All Inseego Wavemaker 5G FWA solutions support Inseego Connect, a subscription SaaS solution that makes it easy for administrators to install, monitor, and troubleshoot all devices across their corporate and loT networks.
Using a web-based dashboard, administrators can remotely configure devices, track data usage, install updates, and review network health. Increase the efficiency of tech support, minimize data overages and improve the security of the corporate network with Inseego Connect.

Purpose-built for the most demanding applications
Whether you need to support temporary sites, connect branch offices, deploy a private wireless network, or maintain a reliable connection in a crowded city, you can enjoy ultra-fast 5G and 4G speeds with better bandwidth and enterprise-grade performance.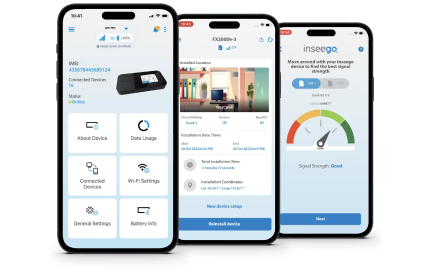 Did you know?
Dual SIM for automatic failover
With two SIM slots, your Inseego device can be configured to automatically switch between service providers, based on the strongest signal, data thresholds, or other parameters you set. No interruptions, no downtime!
Super-fast 5G and 4G for public and private networks
Industry-leading sustained throughput of well over 1 Gbps, plus the split-second, low-latency responsiveness of 5G, mean you're always ready to do business.
Better range. Better performance.
With Inseego devices you don't need to sacrifice performance for range. Choose from powerful indoor and outdoor solutions for reliable, high-speed wireless internet access wherever you need it.
Enterprise-grade security
Multiple layers of encryption, enhanced Wi-Fi security, built-in VPN support, IT admin controls and other features deliver strong security at every level.
Better for business — In the office or at home
Inseego 5G solutions offer a lot of advantages for wireless business internet. Rapid deployment, fast connection speeds, improved range, more reliable connections and easier security management. Ready to get started? We are.
Wavemaker 5G outdoor CPE FW2000 series
Reliable high speed 5G & 4G
High gain (up to 14dBi) directional antennas
IP67 rated
Dual SIM support
5 Gbps ethernet & PoE support

Wavemaker 5G outdoor CPE FW2010 series
High speed, low latency 5G & 4G
High power mmWave antennas
IP67 rated
Dual SIM support
5 Gbps ethernet & PoE support

Wavemaker 5G indoor router FX2000 series
Compact, versatile 5G & 4G router
Dual band Wi-Fi 6 up to 30 clients
External antenna support
Dual SIM support
1 Gbps LAN port
Wavemaker 5G indoor router FG2000 series
Advanced 5G indoor router
Dual band Wi-Fi 6 up to 128 clients
External antenna support
Dual SIM support
Multiple LAN including a 5 Gbps port
Wavemaker 5G industrial gateway S2000 series
Industrial grade 5G + 4G gateway
Designed for 24/7 operation
Multiple power, mounting and antenna options
Dual SIM support
5 Gbps LAN + PoE support
MiFi® X PRO
High-speed, secure 5G mobile broadband
Connect up to 32 Wi-Fi enabled devices
Tether via ethernet or USB for a direct connection
Advanced security & networking features
User-friendly touchscreen with mobile app remote management support
* Actual speeds experienced depend upon network coverage, availability and number of connected devices.