GPS Asset Tracking
Track valuable assets with GPS asset tracking
Reduce equipment downtime, maximize your resources and locate your physical assets fast with our purpose-built range of GPS tracking devices.
GPS Asset Tracking
Track valuable assets with GPS asset tracking
Reduce equipment downtime, maximize your resources and locate your physical assets fast with our purpose-built range of GPS tracking devices.

Find what you need. Fast.
Minimize costly downtime trying to locate your equipment. Access our asset tracking software from your desktop or mobile device (Android and Apple iOS) to see exactly where equipment is in real time, and if it's currently in use. You can filter thousands of assets by tag, type or name.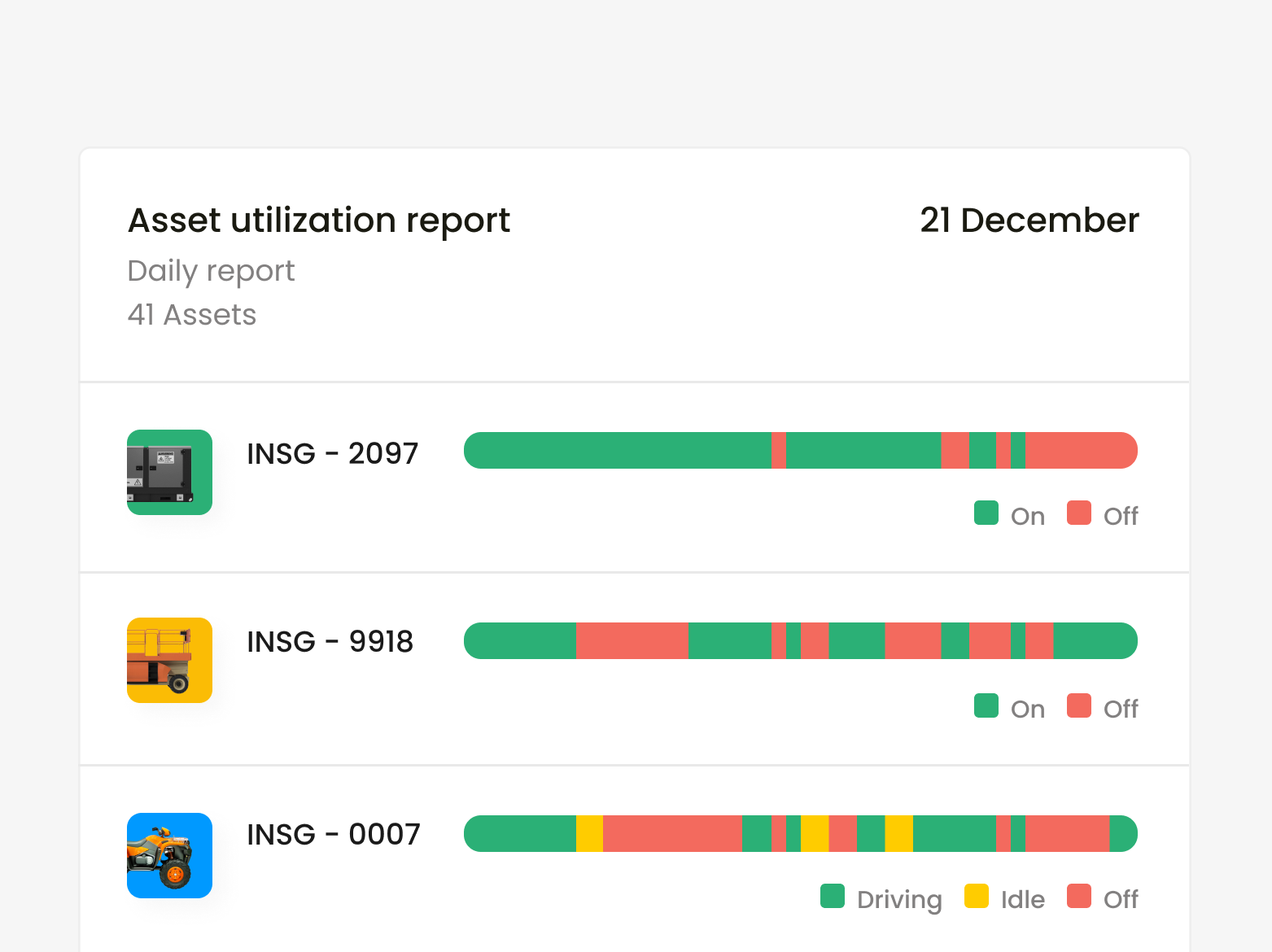 Get the most out of all your assets
Whether you have trucks, trailers, tractors, generators, bins, tools or other valuable equipment, you can avoid the cost of renting more equipment or purchasing new assets by maximizing what you already have. By tracking the utilization of resources across your business, you can identify underutilized assets that can either be put to work more effectively, or sold.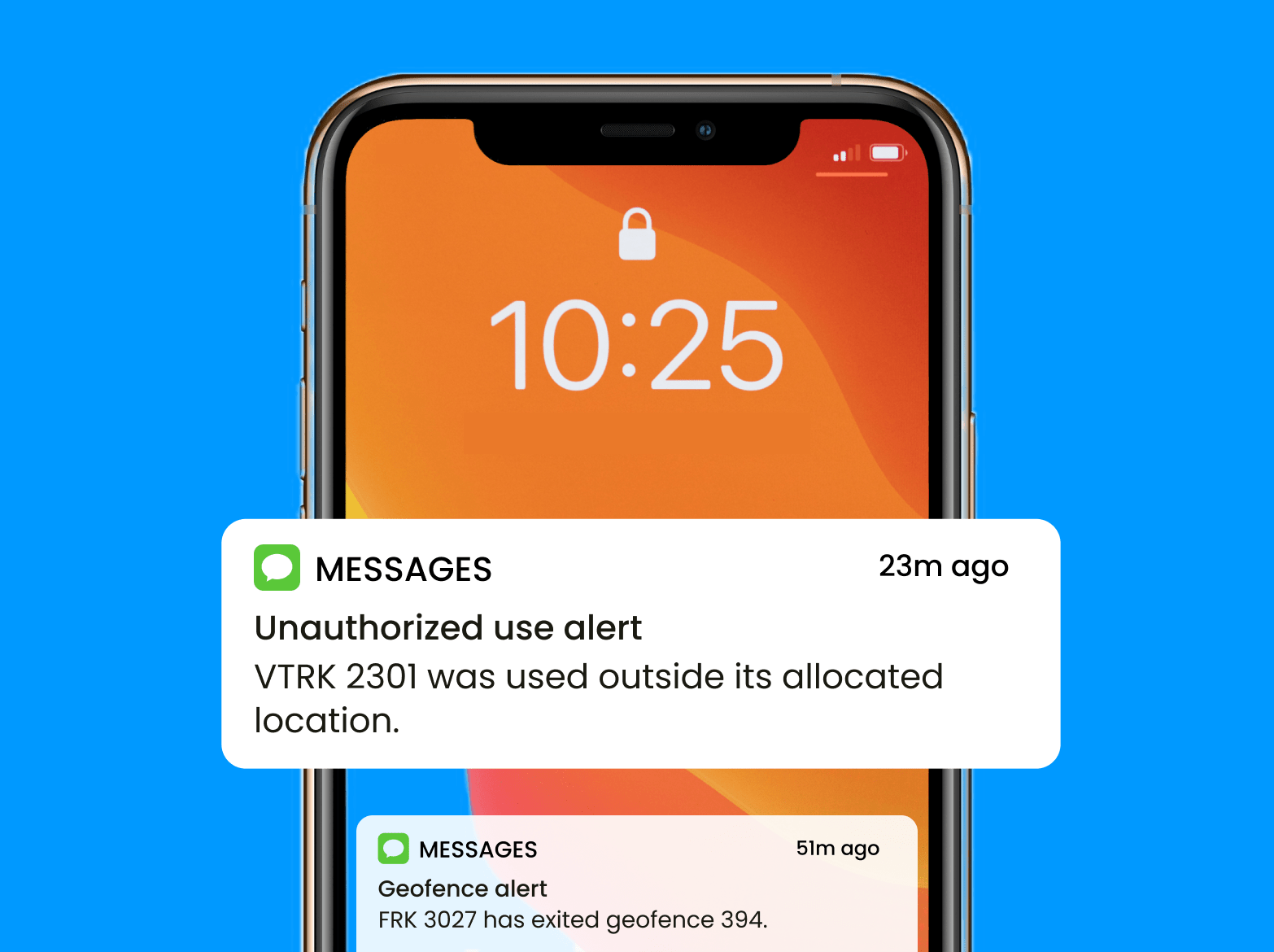 Prevent misuse with asset monitoring alerts
Create alerts that let you know if assets are being used outside of authorized hours or geofenced locations, and keep misuse to a minimum. Notifications can be sent directly to your security team for a faster response.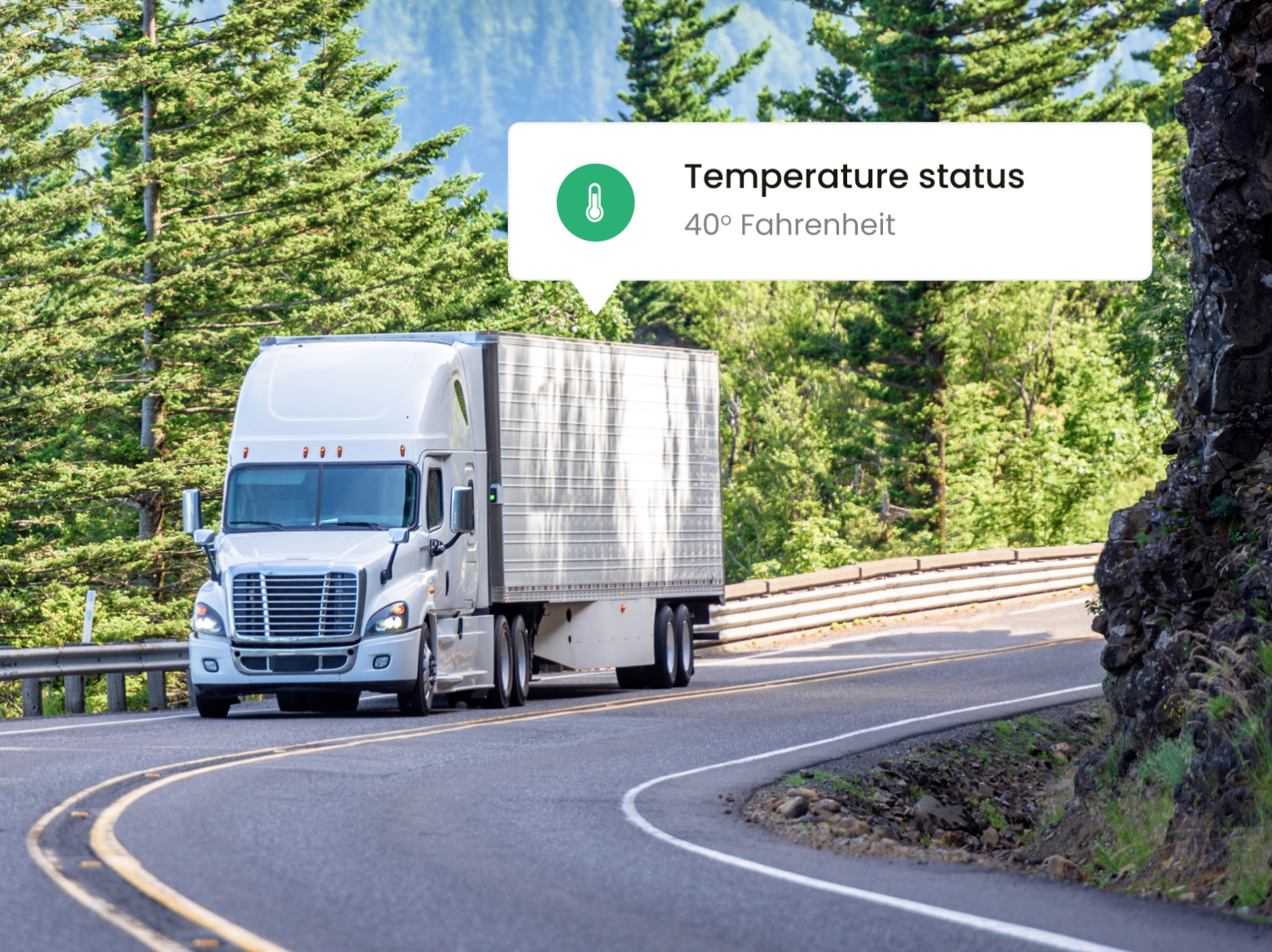 Temperature. Humidity. Tilt. Shock. And more.
Choose from a wide range of telematics sensors including temperature, humidity, tilting, impact or rollover. Reporting thresholds can be configured so alerts are only sent when action needs to be taken. Inseego asset tracking is ideal for environmental monitoring such as maintaining cold chain integrity.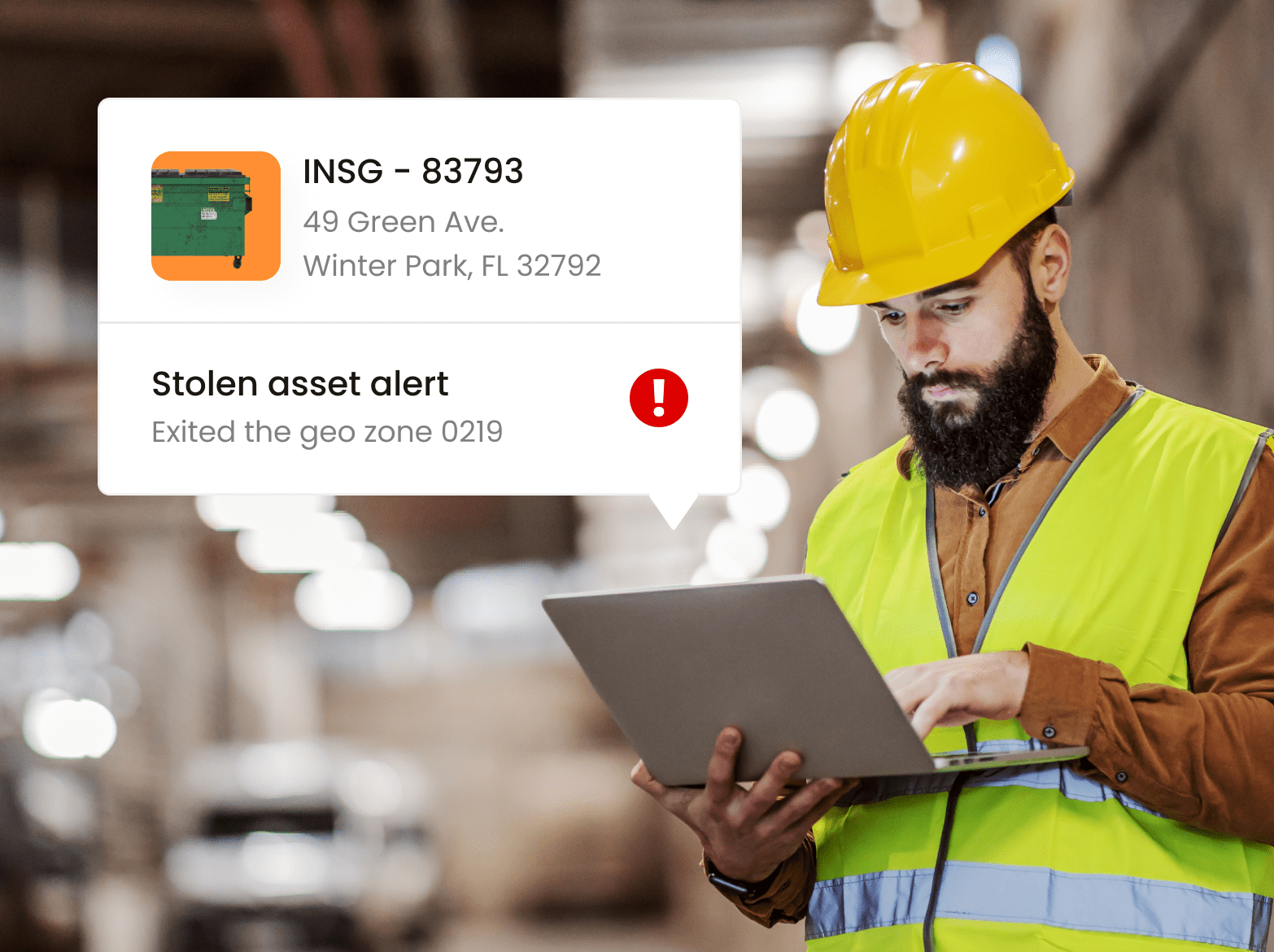 Advanced recovery mode for stolen assets
Recover stolen assets faster with advanced recovery functionality. Once activated, your tracking device will increase the rate at which it reports its location, to aid the recovery process and assist authorities.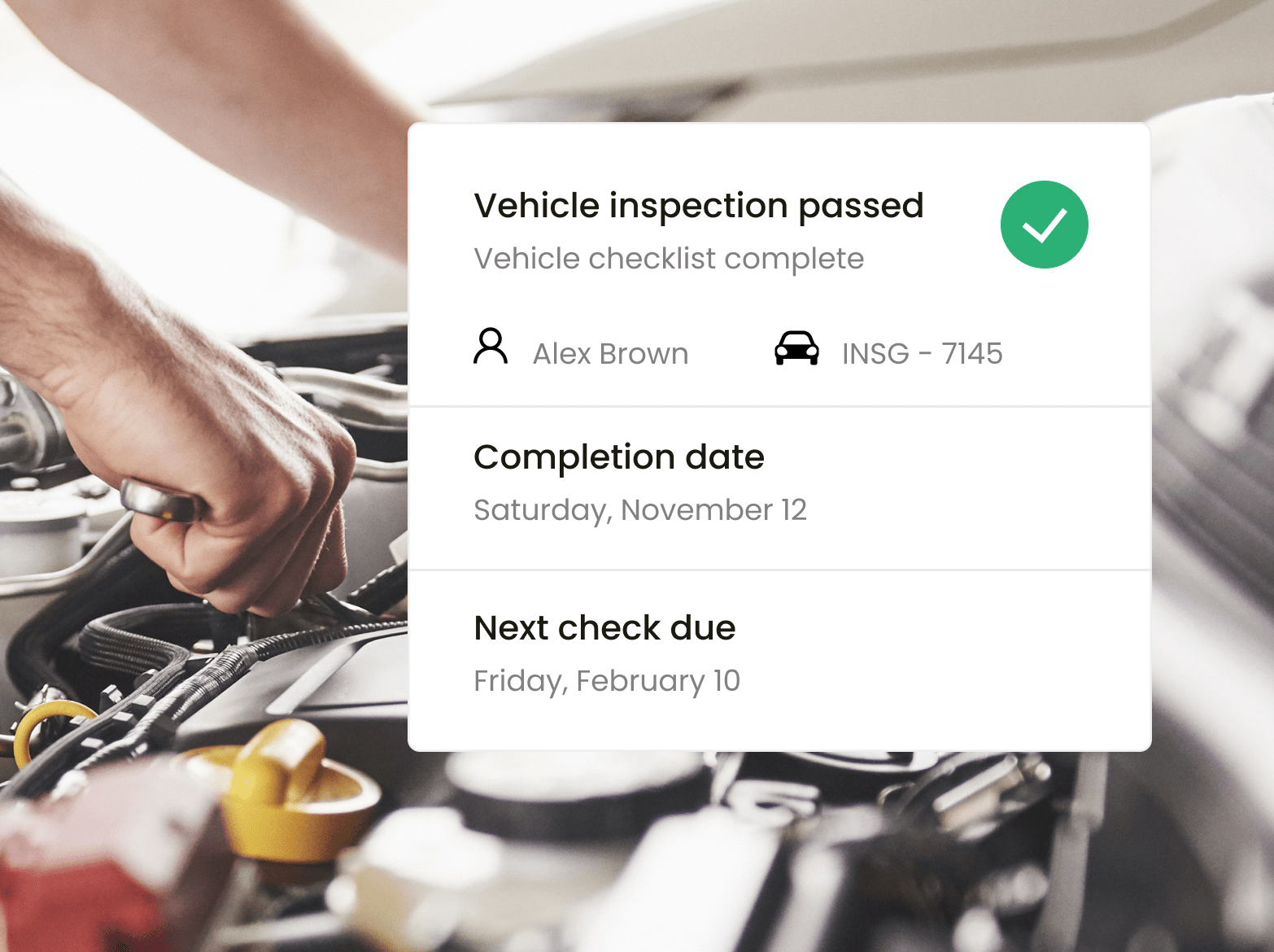 Reduce downtime with preventive maintenance
Receive automatic maintenance alerts based on engine hours or time intervals to keep key assets productive, and within the requirements of factory warranties. Oil changes, replacing parts or general servicing can prevent costly downtime and extend the life of your assets.
Install yourself with 'place and trace' trackers
Getting started with our asset tracking solution is easy. Asset tracking devices are often simple enough to install yourself, allowing you to just 'place and trace', without complicated or lengthy installation procedures. For basic asset tracking setups, you can be up and running in minutes. Alternatively, request help from a qualified installer.
Tracking devices for every scenario
Large or small assets, powered or non-powered, inside or outside — it's time to start rethinking what an asset tracking system can mean for your business.
Powered and non-powered devices
Tracking devices can be connected to the asset's power source, or provide their own battery power, using cost-effective and widely available alkaline or lithium batteries, which, depending on the reporting rate, can last up to seven years.
Tough construction
Built to withstand the elements, you can choose weather-proof (IP67) devices that are compact, rugged and designed to last no matter what their environment throws at them.
Input / interface options
Expand the types of asset data and devices you can track with a range of inputs available for third-party assets including analogue or digital with multiple interfaces (RS-232, RS-485, SDI-12 or I²C Sensor).
Flexible networks
Track your assets anywhere in the country, even outside of coverage areas or within private networks.
Tamper-proof
The security of your tracking devices is critical to reliable reporting, which is why devices are not only built tough, but can also include tamper alerts.
Battery-powered for up to 7 years
When it's not possible to connect to an asset's power supply, choose the self-powered option, with widely available and cost-effective alkaline or lithium batteries. Battery life can last up to seven years (with a built-in low battery alert).
Frequently asked questions
What is asset tracking?

Asset tracking is the system of attaching GPS trackers to your assets and then monitoring them using online software and mobile apps. The GPS trackers fitted to assets can record activity such as movement, location, temperature, vibration, engine hours or a door opening — and then send this information to your GPS asset management software using mobile data (or another network service). Asset tracking is often an important part of GPS fleet management.
Why is asset tracking important to my business?

Asset tracking is a valuable tool to help you improve the maintenance, utilization and security of your equipment. It's also an important way to understand how assets are being used so you can allocate resources effectively.

The telemetry information collected by asset tracking devices can be used in a variety of ways. For example, usage data (e.g. engine hours) can be used to schedule preventive maintenance. Better care of assets means less downtime, and this is a key way to lower operating costs. Employees, including mobile workers, can locate the right equipment quickly, instead of renting or calling around to find what they need. Movement alerts can be used to respond quickly to unauthorized use or theft. Asset location reports can help calculate work order costs or rental charges.
What assets should I be tracking?

You can track almost anything, from the highest-value assets to any tools that are important to your business.

Assets typically tracked include:

Vehicles, boats, motorcycles or ATVs
Trailers
Rental equipment
Off-highway vehicles (OHV) such as diggers, bulldozers and forklifts
Tools and generators
Shipping containers, freight, pallets or parcels
IT equipment

GPS tracking devices can be connected to the asset's power supply or use long-life batteries when attached to non-powered assets (e.g. tools).
Is asset tracking right for my business?

To decide if an GPS tracking solution for your assets is the right decision for your business, consider the following questions:

Is downtime (due to equipment theft or breakdown) a significant cost to your business?
Do you need to share assets between teams?
Is preventive maintenance of assets important?
Would knowing the cost of your assets by job site (or customer) help with billing?
Do you know if all your assets are being fully utilized for profitability?
Is it important to know the location (or temperature, etc.) of stored goods at all times?
Would you like to have insights over an asset's entire lifecycle?

Asset tracking can help with a wide range of business problems, cut costs, save time and improve customer service.

If you'd like to discuss your specific requirements, please contact our sales team.
How does asset tracking work?

A small electronic device (called a GPS tracker) is attached to an asset. It can be self-powered (batteries) or connected to the asset's power supply. When switched on, it starts transmitting data using a network (e.g. 4G, Bluetooth, WPLAN etc.), and this data is collected by a GPS asset management system.

There are a wide variety of options to suit different asset tracking requirements, including asset types, data types, check-in frequency, weather-proofing and locations, near or far. Talk to us about what's possible!
Is it expensive to track assets?

We have a range of affordable asset tracking plans to suit your budget, including no upfront costs and payment plans.

It's also important to keep in mind the potential savings asset tracking can bring to your business, such as reducing asset downtime, finding equipment faster and minimizing theft.
Is asset tracking good for small businesses?

One important way that asset tracking helps small businesses is through better utilization. Purchasing more equipment is a significant expense. It can be much more cost-effective to analyze current usage and see how your existing assets can be better utilized.

Improving security to prevent theft can also prevent costly downtime.
Can I add more assets in the future?

Yes, additional assets can be added at any time. Talk to us about the best hardware options to help you effectively manage all your equipment across a mixed fleet.
Why should I choose Inseego over other providers?

Inseego is a global leader in SaaS (Software as a Service), IoT (Internet of Things) and mobile solutions, which means our products are backed by a wealth of experience and expertise in the telematics industry.

Inseego can provide you with a ready-to-use fleet management solution, or customize one to the specific needs and size of your business. We work alongside you as a telematics partner to maximize your ROI.
How do I get started with GPS asset tracking?

Getting started is easy. Contact us today, let us know a little bit about your fleet and what you would like to achieve and one of our consultants will be in touch to explain how our GPS asset management solutions works, provide an overview of the installation process and discuss pricing.

You can also request a demonstration of the fleet tracking software so you can see the GPS tracking software in action.

With experience in a wide range of different industries and fleet sizes, our telematics experts can help you identify which features and functions are best for your business needs.
Will I receive support and training?

Yes, Inseego is committed to working alongside you as a telematics partner, helping you maximize the benefit and ROI of your new asset tracking solution. We offer a range of support and training services, designed to fit with the needs of your business and help your staff integrate the software with their daily processes.

Support and training options include:

Help desk for fast and ready access to technical support
Remote support to diagnose, troubleshoot and resolve technical issues
On-site or remote training workshops to upskill staff

Adding new technology to your business doesn't have to be difficult. Our support and training services are designed to make it easy to implement GPS tracking and start reaping the benefits for your business.