VPN tab (OpenVPN)
The FX3100 allows you to establish secure connections to remote networks over a public network using OpenVPN.
NOTE: When an OpenVPN connection is established, Port Filtering and Port Forwarding settings are not effective, as traffic from all connected devices goes through the OpenVPN tunnel.
OpenVPN Settings
To configure a VPN connection, click Configure OpenVPN Settings.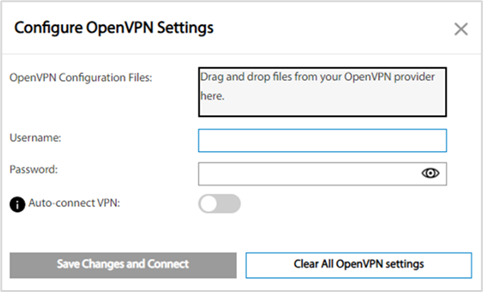 OpenVPN Configuration Files: Drag and drop the OpenVPN configuration files from your OpenVPN provider in the file upload area.
Username: Enter your OpenVPN connection username here.
Password: Enter your OpenVPN connection password here.
Auto-connect VPN: When the ON/OFFslider is ON, the VPN tunnel will automatically be established whenever an internet connection is made. When OFF, the VPN connection must be established manually.
Clear all OpenVPN settings: This button deletes all VPN files, logs, and resets all VPN settings.
Click Save Changes and Connect to save your configurations and connect to the VPN server.
VPN Connection
This section is visible once you have configured your FX3100 for OpenVPN.
Connection status: Indicates the status of the OpenVPN connection.
Connection time: The duration of the current OpenVPN connection.
View Logs: Use this button to view OpenVPN log files.
Connect: Use this button to connect the OpenVPN.