Wi-Fi Name/Password
Use the Wi-Fi Name/Password screens to view information on your primary and guest network and to find your passwords. (You can also access these screens by tapping the
icon on the Home screen.)
Swipe left to view the Guest Wi-Fi Network screen.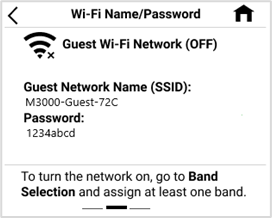 Swipe left again to view information.
To turn on your guest network, assign it at least one band in Wi-Fi Settings > Band Selection.
NOTE: You can change or hide the network name and password information shown on these screens using the Admin web UI Wi-Fi pages.