5G fixed wireless access die binnen enkele minuten gebruikt kan worden geïmplementeerd
Krijg bijna overal snel, betrouwbaar en veilig breedband - zonder kabels.
5G fixed wireless access die binnen enkele minuten gebruikt kan worden geïmplementeerd
Krijg bijna overal snel, betrouwbaar en veilig breedband - zonder kabels.
Gebouwd voor iedere business
Het maakt niet uit of u een wereldwijd netwerk heeft, een grote campus, een klein kantoor of vanuit huis werkt, de fixed wireless oplossingen van Inseego Wavemaker houden uw business verbonden en veilig. Profiteer van de kracht en flexibiliteit van 5G, met een breed scala aan speciaal daarvoor ontworpen 5G-apparaten. Ideaal voor binnen- en buitenlocaties in (voor)stedelijke en landelijke gebieden.
Veilig device management met Inseego Connect
Multi-gigabit snelheden* die beter presteren dan reguliere kabelverbindingen
Verbeterde dekking omdat zowel Sub6- als mmWave 5G frequenties ondersteund worden
Hoe het werkt
Vaste lijnen (FWA) gebruiken mobiele data (4G/LTE en/of 5G) om breedbandinternet naar een huis of bedrijfspand te brengen zonder dat er kabels nodig zijn.
Een 5G outdoor gateway of een 5G indoor router biedt hoge snelheden en weinig vertraging en de algehele prestaties zijn gelijk aan of beter dan een conventionele kabel-, xDSL- of glasvezelverbinding.
Met krachtige, directionele antennes (die alle energie op één bepaalde richting focussen), kan Inseego uw 5G-verbinding versterken en de snelheid en betrouwbaarheid van uw netwerkverbinding verbeteren, zelfs in afgelegen gebieden.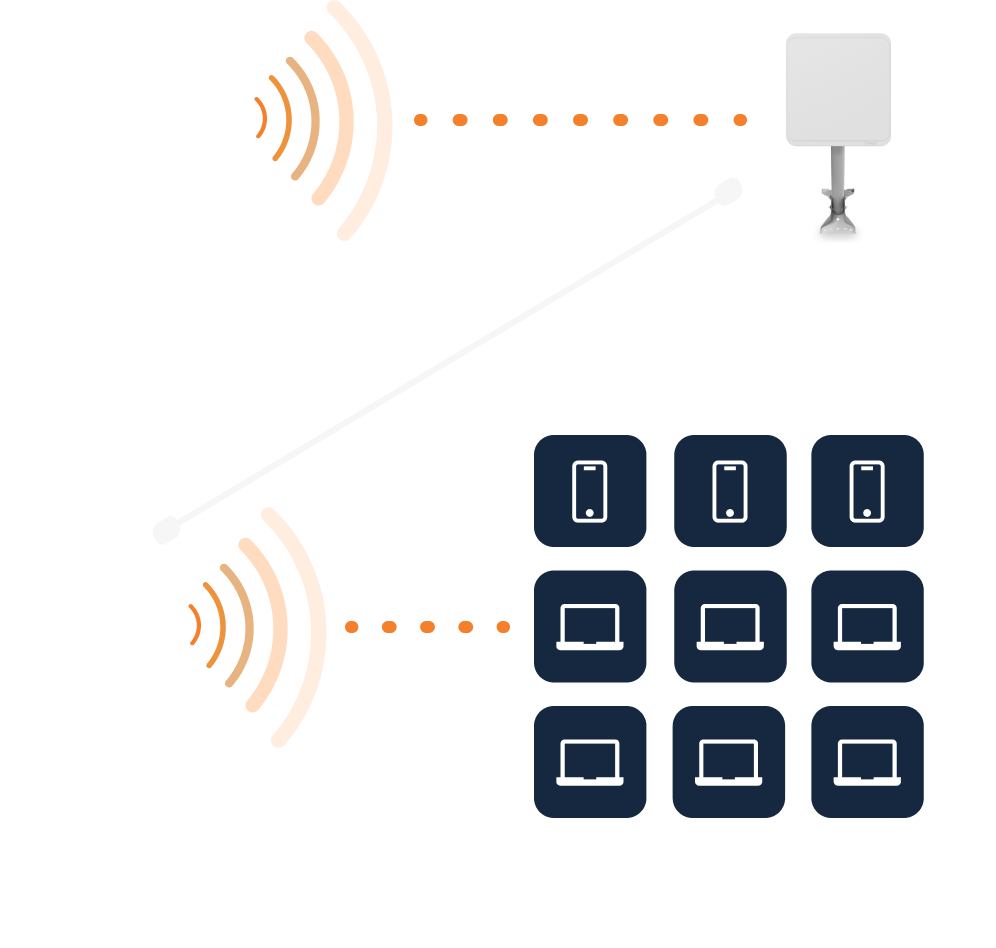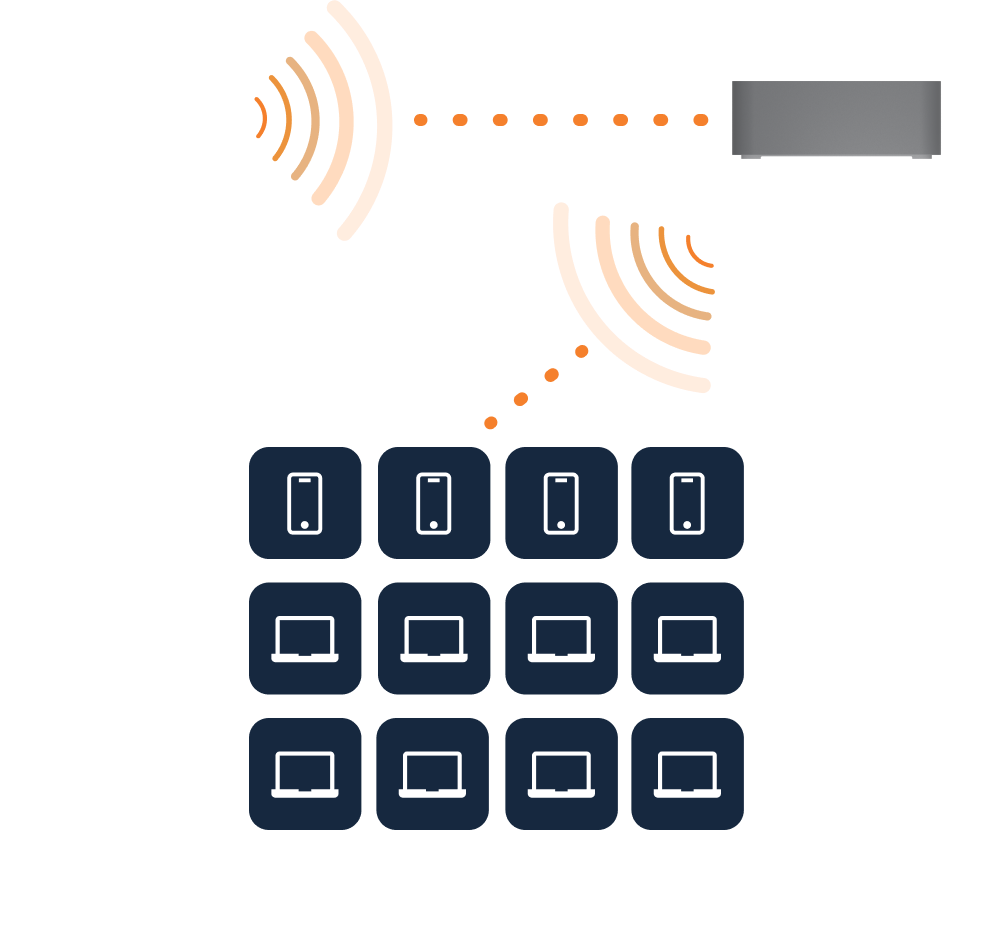 Geavanceerde beveiliging op elk niveau
Met componenten van vertrouwde leveranciers
Strenge, onafhankelijke beveiligingstests
Inseego Manage abonnementsservices omvatten OpenVPN, toegangscontrole, end-to-end apparaatbeveiliging, actieve detectie van bedreigingen, herstel, waarschuwingen en meer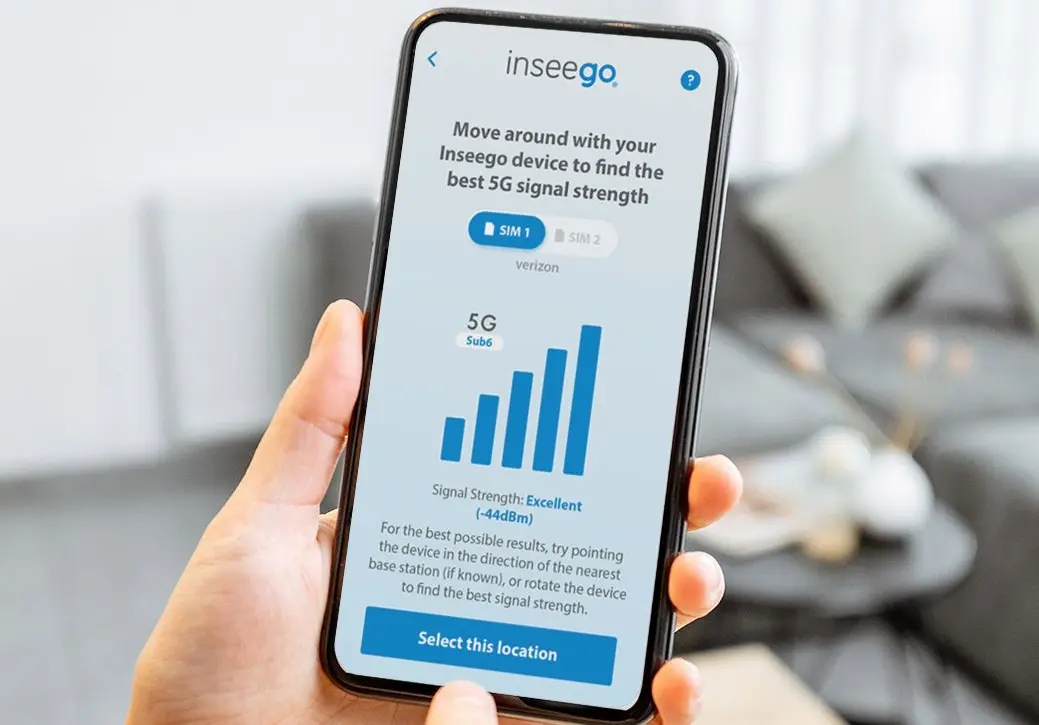 Snel en eenvoudig in te stellen
Plug & Play binnen router voor snel en kosteneffectief gebruik
Gateways voor buiten zijn eenvoudig te installeren, met een verscheidenheid aan montagemogelijkheden
De Inseego Mobile App helpt gebruikers de optimale locatie voor installatie te vinden, de prestaties te monitoren en problemen op te lossen
Gebruik de Inseego Mobile App om de beste positie voor uw apparaat te vinden.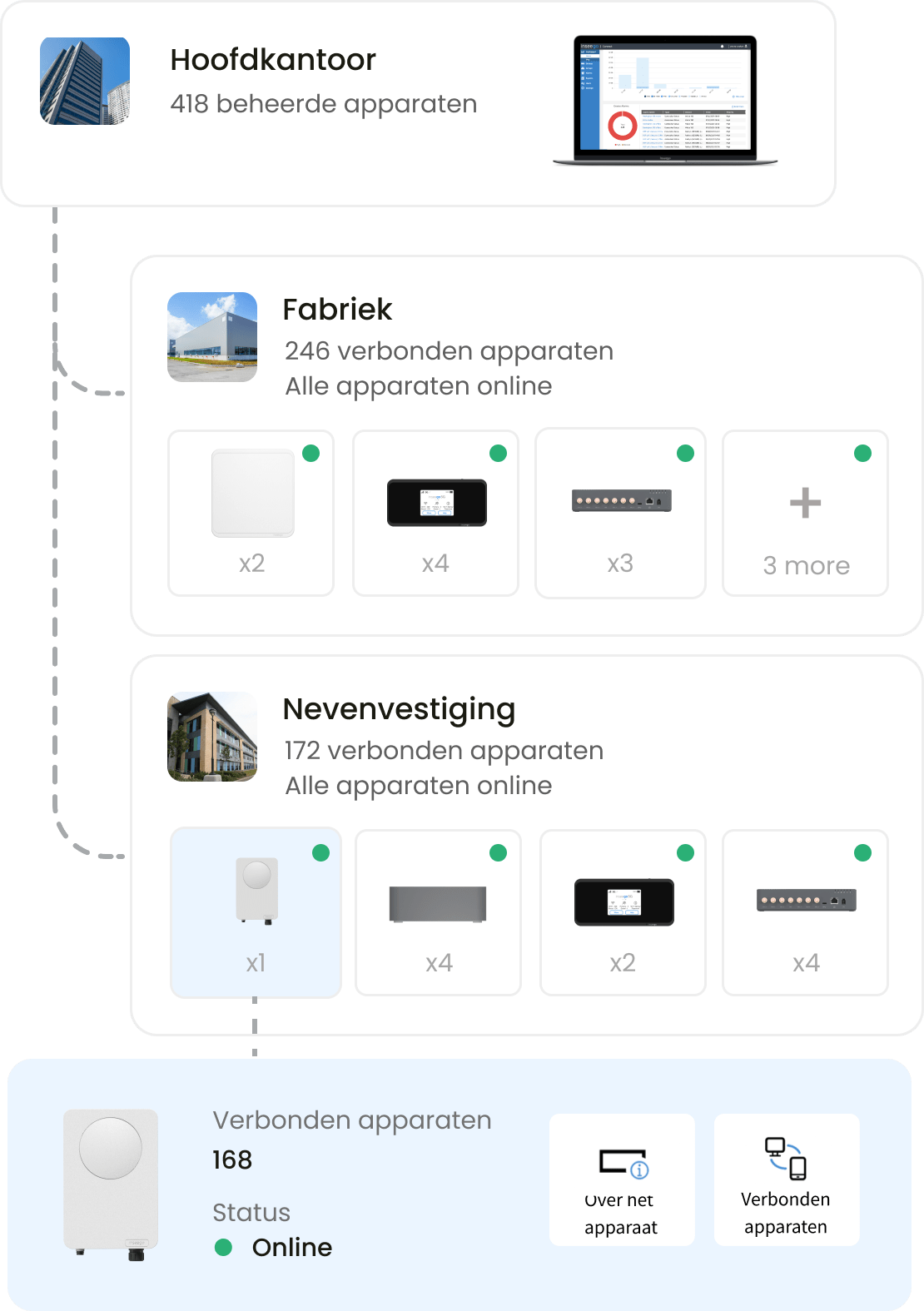 Beheer al uw Inseego apparaten vanaf elke locatie
Alle Inseego Wavemaker 5G PRO oplossingen ondersteunen Inseego Connect, een SaaS-oplossing abonnement waarmee beheerders eenvoudig alle apparaten in hun bedrijfs- en IoT-netwerken kunnen installeren & monitoren en problemen kunnen oplossen.Met een web-based dashboard kunnen beheerders apparaten op afstand configureren, het datagebruik volgen, updates installeren en de netwerkstatus controleren. Verbeter de efficiëntie van de technische support, minimaliseer data overschrijdingen en verbeter de beveiliging van uw netwerk met Inseego Connect.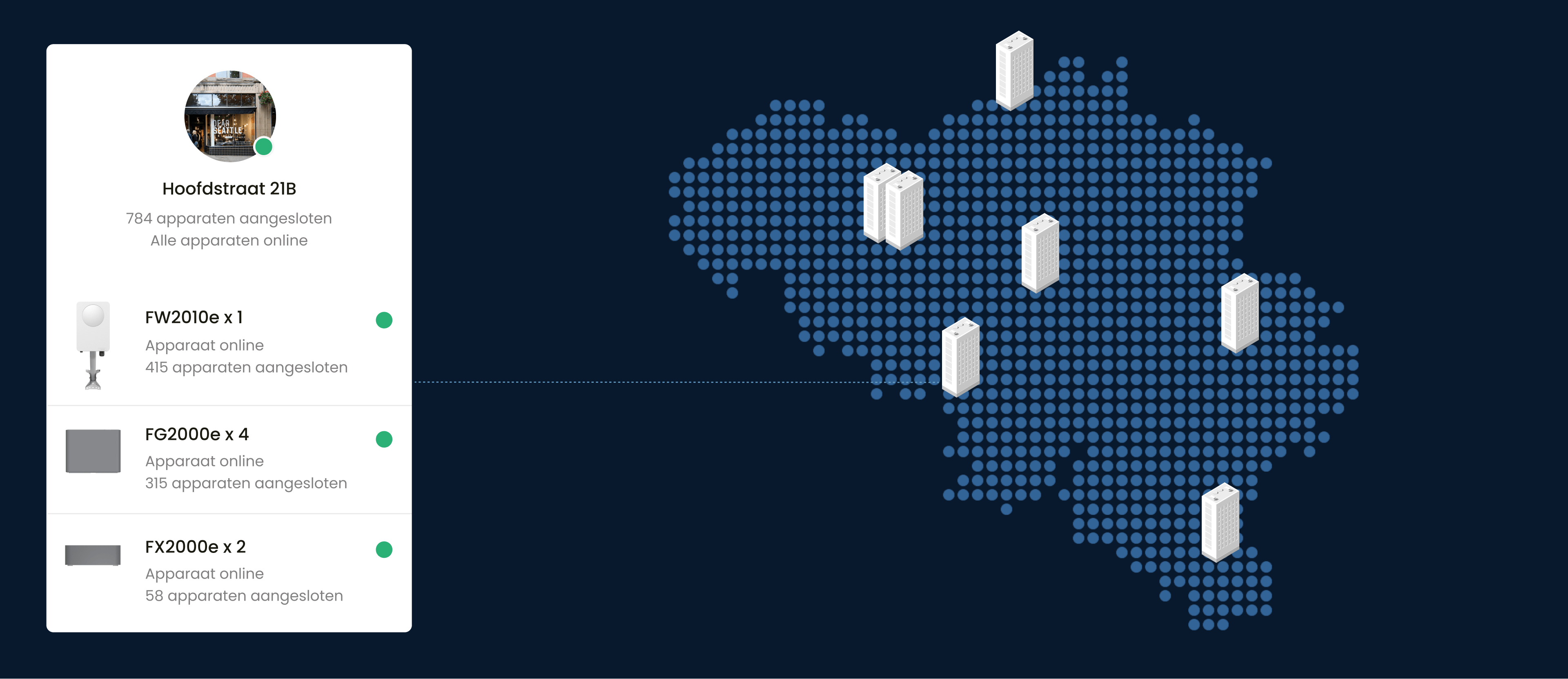 Ontworpen voor de meest veeleisende toepassingen
Ongeacht of u tijdelijke locaties moet ondersteunen, filialen moet verbinden, een particulier draadloos netwerk moet implementeren of een betrouwbare verbinding moet onderhouden in een drukke stad, u geniet van ultrasnelle 5G- en 4G-snelheden met betere bandbreedte en enterprise-grade performance.
Dual SIM voor automatische failover
Met twee SIM-slots kan uw Inseego apparaat worden geconfigureerd om automatisch te schakelen tussen serviceproviders, op basis van het sterkste signaal, data drempels of andere parameters die u instelt. Geen onderbrekingen, geen downtime!
Supersnel 5G en 4G voor openbare en particuliere netwerken
Dankzij de toonaangevende, aanhoudende doorvoer van ruim 1 Gbps, tezamen met de supersnelle reactietijd van 5G met weinig vertraging, bent u altijd klaar om zaken te doen.
Beter bereik. Betere prestaties.
Met Inseego apparaten hoeft u niet te kiezen tussen prestaties en bereik. Kies uit krachtige binnen- en buitenoplossingen voor betrouwbaar, snel internet waar u maar wilt.
Enterprise-grade beveiliging
Meerdere versleutelingslagen, verbeterde wifi-beveiliging, ingebouwde VPN-ondersteuning, IT-beheerfuncties en andere functies zorgen voor een sterke beveiliging op alle niveaus.
Beter voor de business - op kantoor of thuis
Inseego 5G oplossingen bieden veel voordelen voor draadloze bedrijfscommunicatie. Snelle implementatie, hoge verbindingssnelheden, verbeterd bereik, betrouwbaardere verbindingen en eenvoudiger beveiligingsbeheer. Bent u er ook klaar voor?
Wavemaker 5G outdoor CPE FW2000 series
Reliable high speed 5G & 4G
High gain (up to 14dBi) directional antennas
IP67 rated
Dual SIM support
5 Gbps ethernet & PoE support

Wavemaker 5G outdoor CPE FW2010 series
High speed, low latency 5G & 4G
High power mmWave antennas
IP67 rated
Dual SIM support
5 Gbps ethernet & PoE support

Wavemaker 5G indoor router FX2000 series
Compact, versatile 5G & 4G router
Dual band Wi-Fi 6 up to 30 clients
External antenna support
Dual SIM support
1 Gbps LAN port
Wavemaker 5G indoor router FG2000 series
Advanced 5G indoor router
Dual band Wi-Fi 6 up to 128 clients
External antenna support
Dual SIM support
Multiple LAN including a 5 Gbps port
Wavemaker 5G industrial gateway S2000 series
Industrial grade 5G + 4G gateway
Designed for 24/7 operation
Multiple power, mounting and antenna options
Dual SIM support
5 Gbps LAN + PoE support
* De daadwerkelijke snelheden zijn afhankelijk van de netwerk dekking en beschikbaarheid en het aantal aangesloten apparaten.