Terug naar blog
Mobiliteit
Het hoe, wat en waarom van checkinatwork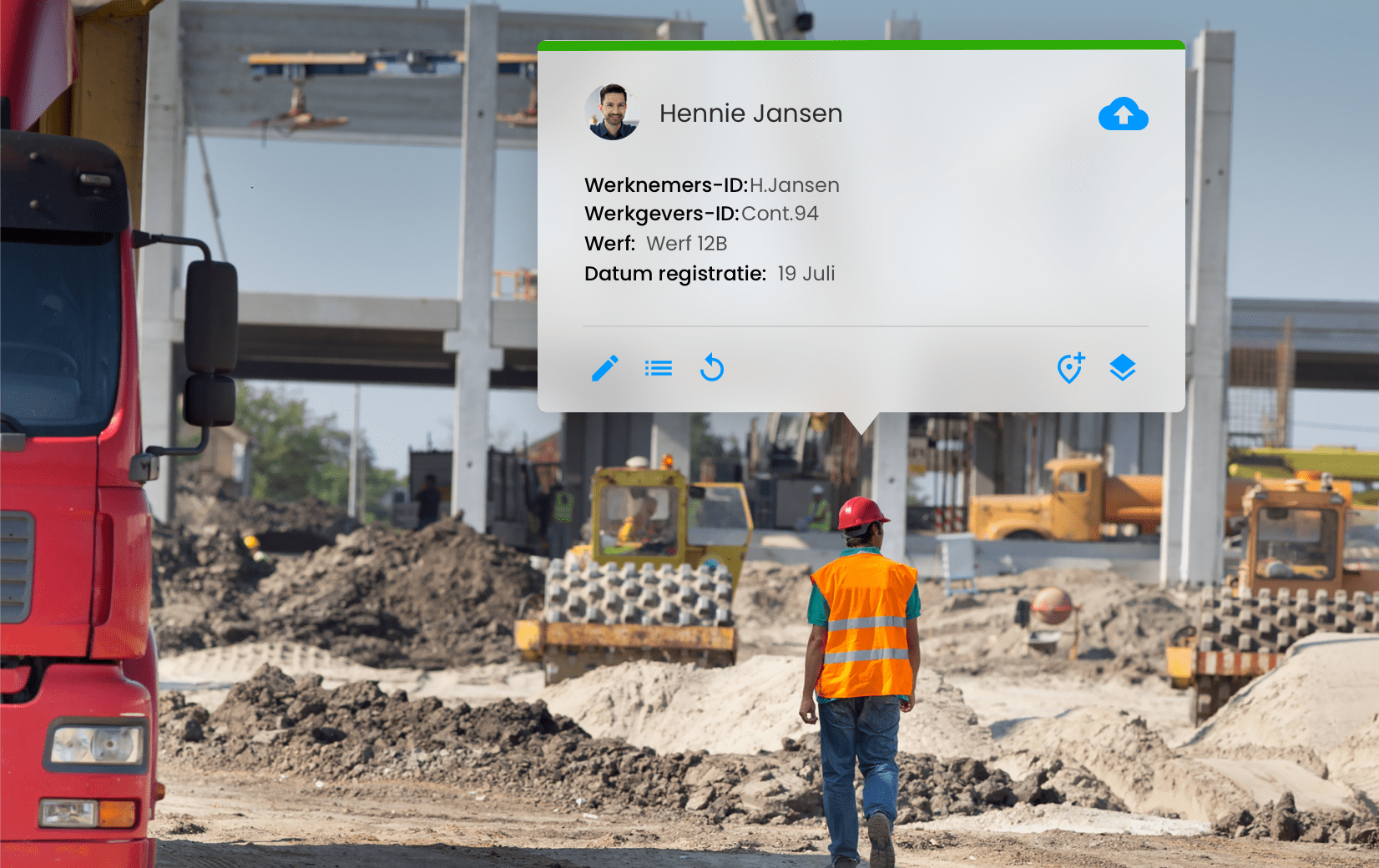 'Check in at work' is een online platform dat ter beschikking wordt gesteld door de overheid, om te garanderen dat werkgevers hun werkkrachten op een correcte manier registreren.
Het wordt gebruikt voor de aanwezigheidsregistratie van iedereen die actief betrokken is bij werken in onroerende staat (gerelateerd aan bouw, ook wegenwerken). Van hoofdaannemers, aannemers, onderaannemers, (interim)arbeiders en zelfstandigen t/m stagiairs. Dus ook veiligheidscoördinatoren en bouwdirecties belast met ontwerp, uitvoering en controle.
Met deze registratie wil de overheid de veiligheid en gezondheid op werven vergroten. Door de aanwezigheid op de werf te registreren kan namelijk te allen tijde gecheckt worden wie wanneer aanwezig is op welke werkplaats, wat heel nuttig is bij een ongeval of een gevaarlijke situatie. Daarnaast krijgt sociale fraude minder kans als de aanwezigheid officieel wordt vastgelegd.
Wanneer is checkinatwork verplicht?
De checkinatwork wetgeving is sinds 1 april 2014 van kracht en sinds 1 maart 2016 verplicht voor alle werken van meer dan € 500.000,- excl. btw.
Aan het begin van iedere werkdag moeten alle aanwezigen die werkzaamheden verrichten aangemeld zijn. Zo niet, dan kunnen de gevolgen aanzienlijk zijn. Boetes kunnen namelijk oplopen tot € 6.000 en gepaard gaan met een strafrechtelijke sanctie.
Hoe werkt checkinatwork?
Voor de start van de aanwezigheidsregistratie wordt het bouwproject aangemeld. Dit kan via de 'aangifte van werken'. Omdat de hoofdaannemer een overeenkomst heeft met de opdrachtgever, dient hij het project aan te melden.
De Rijksdienst voor Sociale Zekerheid (RSZ) biedt 4 verschillende registratie kanalen die naar believen afgewisseld kunnen worden:
onlinedienst via desktop
mobiele onlinedienst
gateway
webservice
U kunt kiezen voor een melding ter plaatse of vanop afstand.
De verantwoordelijkheid voor de registratie via checkinatwork ligt zowel bij de opdrachtgever als bij degene die het werk uitvoert. Afhankelijk van wat er onderling is afgesproken, kan laatstgenoemde de registratie zelf uitvoeren of de door de opdrachtgever uitgevoerde registratie controleren.
Naargelang de grootte van de werf en het aantal werknemers staat er bij de toegang één checkinatwork prikklok of staan er meerdere prikklokken. Iedereen die komt werken, checkt in op de prikklok vóór ze hun job aanvatten.
Buitenlandse werknemers moeten altijd het bewijs van hun Limosa-aangifte bij zich hebben, het L1-document. Om hun aanwezigheid te registreren hoeven zij enkel de QR-code te scannen die daar op staat.
Hoe kun je eenvoudig aan deze registratie verplichting voldoen?
Voor een kleine onderneming (minder dan 5 personen), is handmatige registratie per persoon nog steeds een optie. Grotere bedrijven integreren de RSZ webservice in hun planning-, track & trace- of tijd registratie systeem om aanwezigheden te registreren en te annuleren. Als er met buitenlandse medewerkers gewerkt wordt, dan kunt u een oplossing overwegen op basis van het scannen van de QR-code van het Limosa formulier-L1.
Hoe Inseego software u helpt
Onze werfregistratie / aanwezigheidsregistratie oplossing bevat alle verplichte RSZ-onderdelen:
persoonlijke gegevens werknemer
ondernemingsnummer werkgever
code van de werf
datum registratie
Daarnaast is een groot voordeel dat onze oplossing geen extra kosten met zich meebrengt. De registratie vindt plaats met de al aanwezige ID-badges of ID-tags (indien compatibel). Daarnaast is de applicatie eenvoudig in beheer en te koppelen met ConstruBadge.
Meer informatie
Staat uw vraag er niet tussen, heeft u andere vragen of wilt u meer weten over het gebruik of de toepassing van de aanwezigheidsregistratie oplossing van Inseego? Aarzel dan niet en neem direct contact op met ons.