Return to news
Inseego Wins Top B2B Workplace Device Awards for its Inseego Wavemaker™ 5G FG2000 Series
April 14, 2022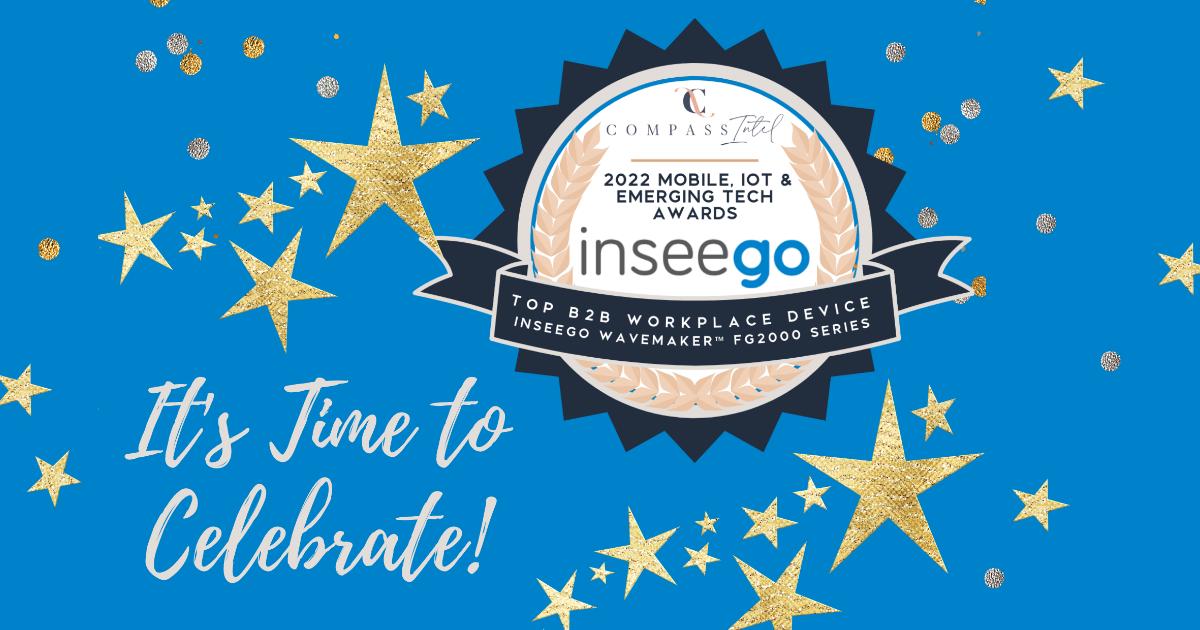 Inseego was recently honored with the 2022 Top B2B Workplace Device award for its Inseego Wavemaker™ 5G FG2000 series indoor router. Inseego's 5G fixed wireless solutions are designed to meet the needs of users in almost any location, from underserved rural areas to dense urban environments, and residential settings to business premises. The FG2000 is one of the industry's most robust 5G fixed wireless indoor routers, designed to deliver the best, most reliable performance for enterprise use and corporate applications.
The FG2000 5G indoor router provides easy plug-and-play installation and in addition to 5G, delivers robust Wi-Fi 6 and ethernet connectivity to meet any home or business need, for up to 128 connections. Inseego's enterprise-grade security safeguards data with advanced encryption, hacker prevention and password protection and provides a secure connection to help enable e-learning, remote working, telehealth applications and many other connectivity needs. It's also an ideal option for enterprise customers who need a reliable primary or failover solution. Easy to use and manage, the FG2000 offers dual-SIM support and multi-carrier firmware for best-in-class connectivity, wherever they need it. It lets users easily control their router settings with the convenient Inseego mobile smartphone app, which makes it easy to find the best location in their environment for optimal performance. And the device management tool, Inseego Connect, empowers IT organizations easily manage, monitor, and configure the entire deployment across their distributed workforce and branch operations from a single pane of glass.
"We are honored that CompassIntel has selected Inseego Wavemaker 5G FG2000 series as the Top B2B Workplace Device," said Jodi Ellis, head of product marketing at Inseego. "We are committed to providing businesses and home offices with cutting edge technology. The smart security and management features allow users to connect with confidence knowing that data is private and secure."
"Inseego has long been a leader in enterprise connectivity solutions and its advancement in the indoor 5G router space is no exception," states Stephanie Atkinson, CEO of CompassIntel.com. "Congratulations to the Inseego team for providing innovative 5G connectivity solutions for branches and growing companies."
For the past 25 years, Inseego has been leading efforts in reinventing wireless connectivity supporting mobile broadband, fixed wireless access, industrial IoT, enterprise SaaS, edge computing and beyond. As Inseego focuses on accountability, urgency, market needs and integrity with a customer centric focus, Inseego products and solutions work to exceed customer expectations through breakthrough applications like the Wavemaker™ FG2000 series.
Inseego is proud to be among the 40 other companies and organizations recognized this year including companies such as AT&T, Apple, AWS, Microsoft, and T-Mobile. The awards were voted on by 40+ industry-leading press, editors, journalists, thought leaders, and analysts across three primary award categories that include mobile, IoT, and emerging technology.
About Inseego
Inseego Corp. (Nasdaq: INSG) is an industry leader in smart device-to-cloud solutions that extend the 5G network edge, enabling broader 5G coverage, multi-gigabit data speeds, low latency and strong security to deliver highly reliable internet access. Inseego's mobile broadband, fixed wireless access (FWA) solutions and software platform incorporate the most advanced technologies (including 5G, 4G LTE, Wi-Fi 6 and others) into a wide range of innovative products that provide robust connectivity indoors, outdoors and in the harshest industrial environments. Designed and developed in the USA, Inseego products and SaaS solutions build on the company's patented technologies to provide the highest quality wireless connectivity for service provider, enterprise, and government entities worldwide. www.inseego.com #Putting5GtoWork
About The Annual Spring Awards
The 10th Annual 2022 CompassIntel Mobile, IoT, and Emerging Tech Awards Innovator Awards honors companies, vendors, and organizations demonstrating innovation, leadership, disruption, and excellence in the technology industry. There are three primary areas of awards including Mobile, IoT, and emerging technologies, along with the CompassIntel personally selected awards. There are 37 general award categories, along with the 3 to 6 annual selection of companies that Compass Intelligence will award individually. Awards are voted on by a group of analysts, editors, thought leaders, and advisors to keep the voting in a neutral format voted on by a group of industry peers.
Learn more about the Awards: https://www.compassintelligence.com/awards--honors.html