Return to news
Inseego 5G SD EDGE™ wins Compass Intel's 2022 IoT Innovator Award for Public Safety
October 12, 2022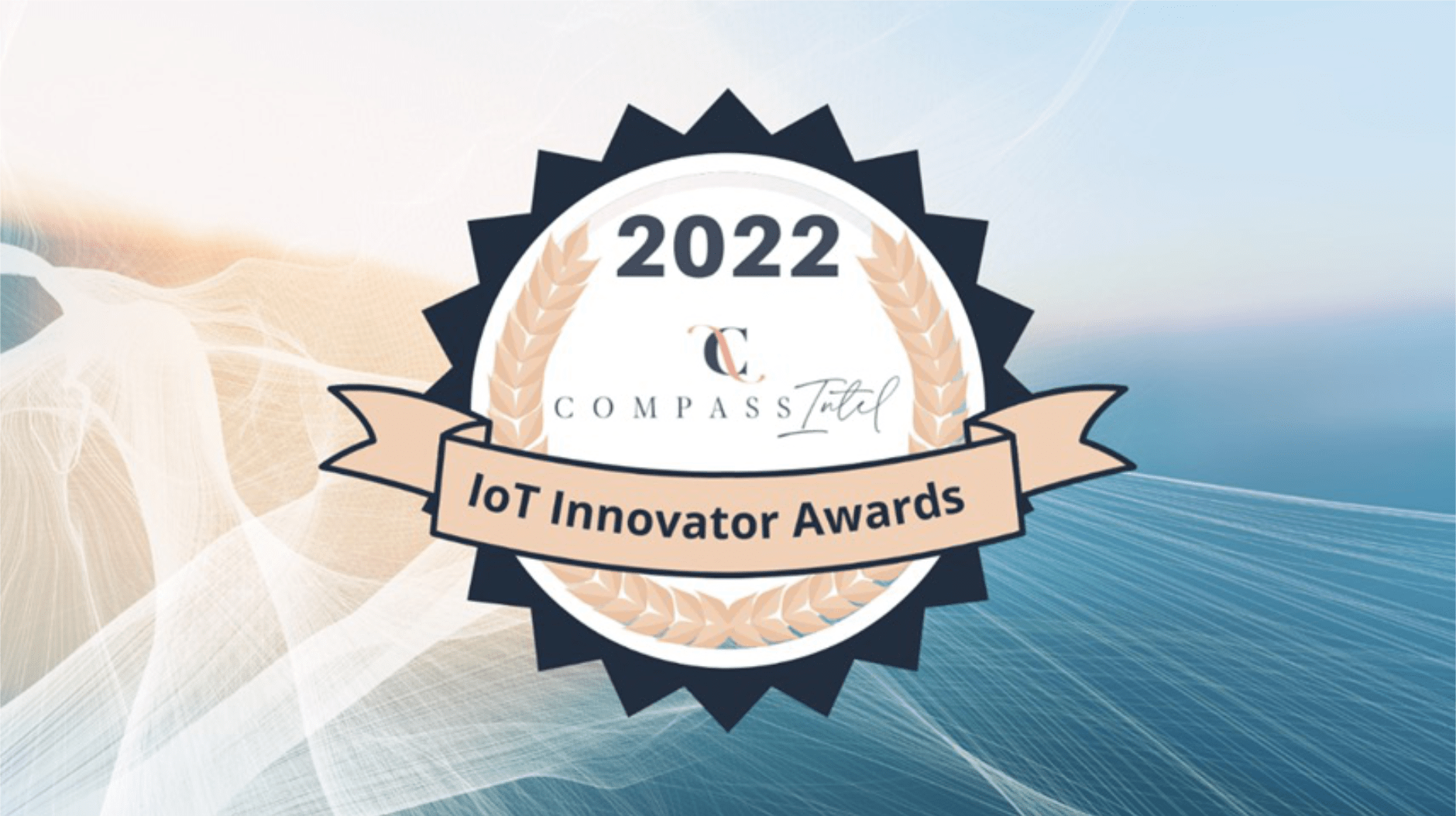 Inseego 5G SD EDGE enterprise networking solution provides dedicated, secure connectivity for public safety agencies with investigators and other law enforcement personnel working from home.
28 Awardees Announced for the 5th Annual 2022 IoT Innovator Awards by CompassIntel.com
SAN ANTONIO, TEXAS—Oct 12, 2022— Congratulations to the 5th Annual IoT Innovator award recipients! 2022 has remained a growth year for innovation in IoT and we have witnessed a deeper dive into positive outcomes and strategic applications across industries specific to industrial and enterprise. Every fall, Compass Intelligence honors and recognizes the best of the best IoT innovative companies, organizations, products, platforms, and solutions. Compass Intelligence recognizes 21 companies in distinct IoT categories specific to industry and key applications. In addition, this year Compass Intelligence recognizes and honors 7 additional companies for unique innovation and excellence in IoT solutions, products, and services.
The 2022 IoT Innovator award recipients include the following companies and organizations (in order of the award listings): Siemens, WaterX Technologies Inc, AGCO Corporation, Forescout Technologies Inc, Beep, Qualcomm Technologies, Inc., Cintra's AIVIA, PCTEL, Exeger and Atmosic Technologies, Inseego, LG Electronics, Fleetio, Spireon, Airgain, Aabey, Quectel, Intel, KORE, OnAsset Intelligent, Aruba, Telit, ClearBlade, Wipelot, Adversa AI, Telli Health by Eseye, Crosser, Elipsa, and Pedigree Technologies.
"We are sitting in the midst of a prime opportunity for innovation in IoT driven by the need to automate, connect, and bring intelligent resources to enterprise and industrial applications," says Stephanie Atkinson, CEO of Compass Intelligence. The IoT Innovator Awards program builds on existing research, market studies, custom advisory, and insight reports made available on CompassIntel.com. "Congratulations to these 28 innovative companies and organizations who are continuing to drive advancement, scale, and real-world intelligence to businesses around the globe."
The 2022 CompassIntel IoT Innovator Award recipients are as follows: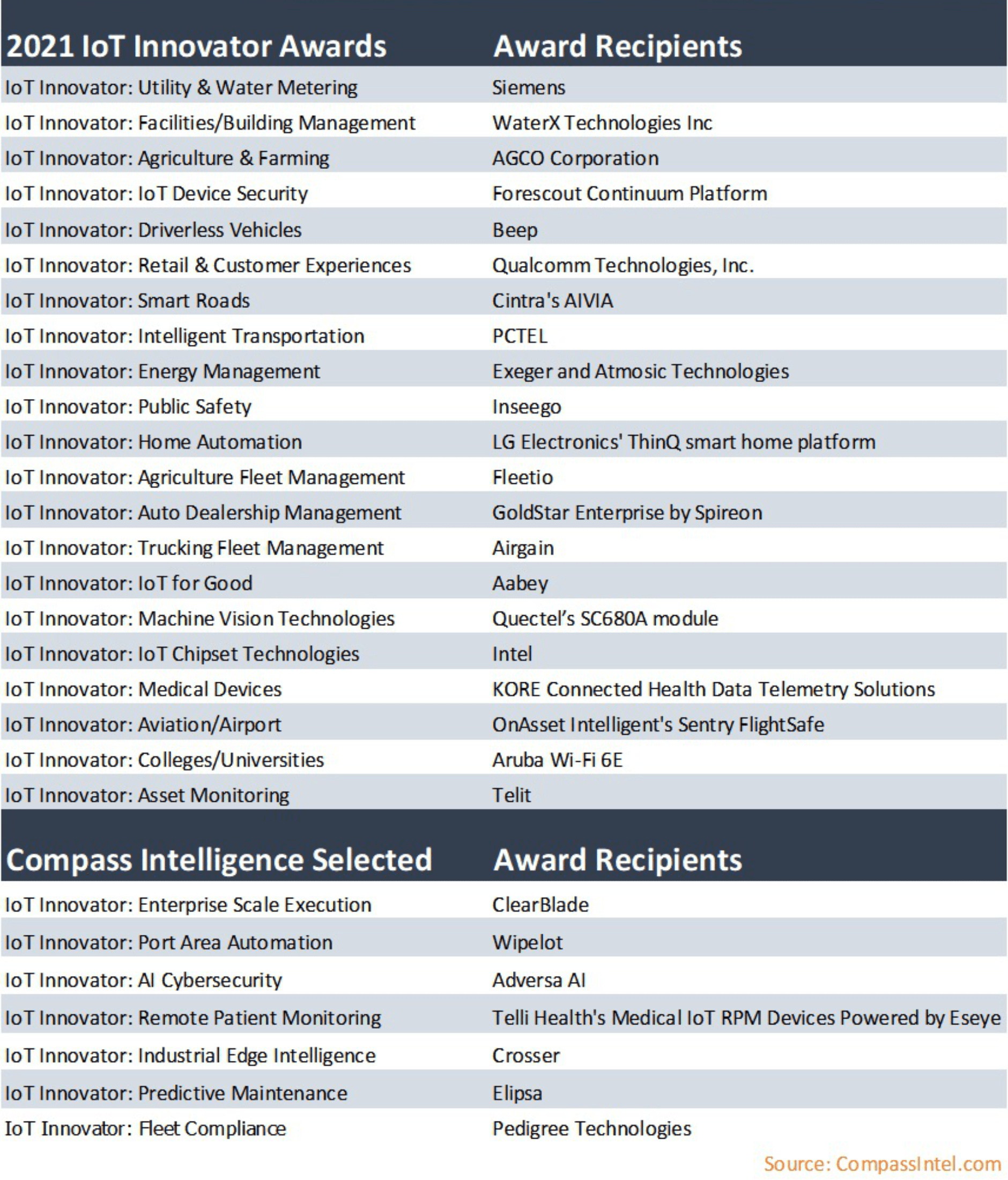 For more information about Compass Intelligence, please visit compassintelligence.com
About The CompassIntel IoT Innovator Awards
The 5th Annual CompassIntel IoT Innovator Awards honors companies and vendors demonstrating innovation in Internet of Things solutions, products, applications, and technology. Compass Intelligence has been recognizing companies for more than 10 years, after initially launching the A-List in M2M Awards back in 2012. The Innovator award categories run across 21 IoT innovation categories. In addition, Compass Intelligence also recognizes startups, stand-out products, and emerging and established IoT companies annually that have made an impact on the market and demonstrate superior innovation to elevate IoT.
Note: Brand or product names are trademarks or registered trademarks of their respective holders.