Return to news
Houston, we have a solution:
February 24, 2022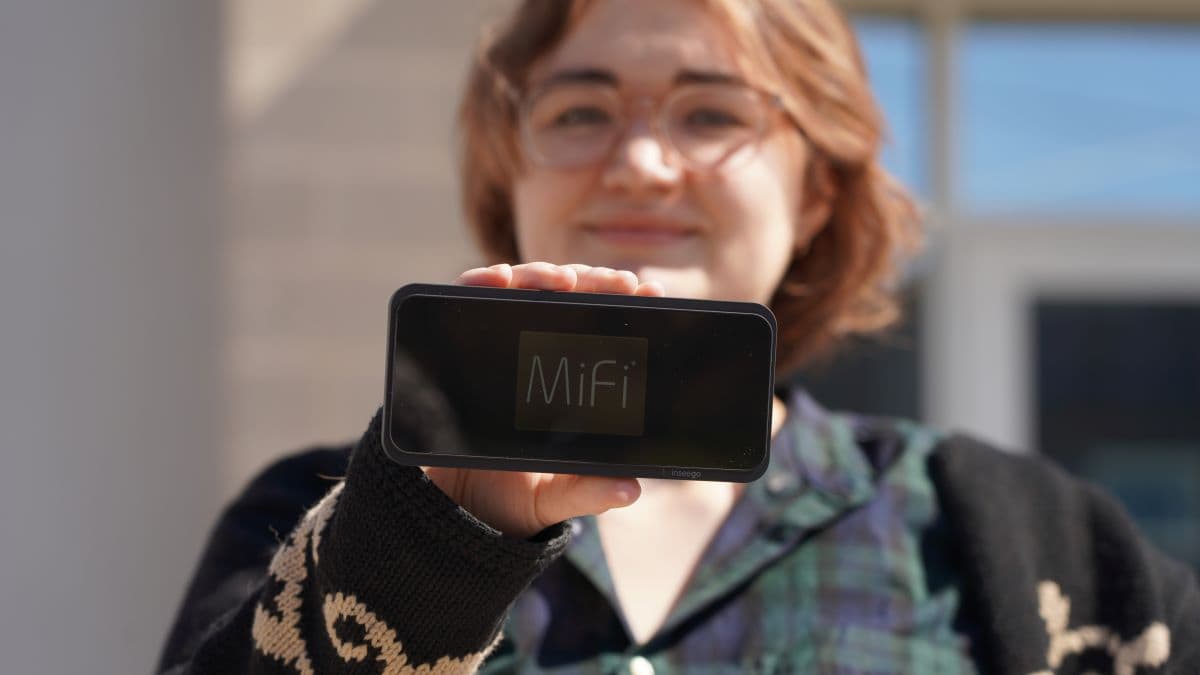 Harris County Public Library delivers 40,000 Inseego 5G MiFi® M2000 mobile hotspots with unlimited data to help bridge the digital divide.

HOUSTON and SAN DIEGO — Almost every county in America has an 'internet desert' where hundreds or thousands of households still can't access the high-speed broadband they need for their basic education, job training, bill paying, and healthcare.
In Harris County, the public library system has formulated a new solution, tapping into federal funding to help furnish high-speed broadband precisely where it's needed most, with a program that can serve as a model for other cities and counties nationwide.
Through a $30 million Emergency Connectivity Fund (ECF) grant, the Harris County Public Library (HCPL) has begun to deliver 40,000 Inseego 5G MiFi® mobile hotspots and 15,000 Chromebooks – along with digital literacy training and wireless data service on a leading cellular network – for Harris County residents who lack essential broadband.
"Robust and reliable connectivity is a lifeline for every business, family and individual, and the Emergency Connectivity Fund grant to Harris County Public Library is an excellent example of how government funds are being allocated to help bridge the digital divide," says Dan Picker, CTO at Inseego.
"Inseego is proud to play a role in the ECF project through the Harris County Public Library. Our 5G solutions help level the playing field for Americans in disadvantaged communities by delivering the reliability and performance that's required for today's work, school, and healthcare applications."
The HCPL Connected program covers not only underserved library patrons and students, but also facilitates broadband access for small business owners, senior citizens and others in need. According to the latest Census data, 640,000 Houston area residents have no home internet service, and 396,000 have no connected devices. Nationwide, more than 21 million Americans lack broadband access.
"It's one thing to maybe have a smartphone, but that's not enough. Without access to reliable high-speed internet from a laptop, many residents are severely disadvantaged," says Harris County Public Library Executive Director Edward Melton. "It means school children are cut off from distance learning and online assignments, so they inevitably fall behind their peers. It means their parents have to leave work early to pay bills in person that could be handled online. It means missing crucial news updates and alerts. Now we're trying to change that."
Building a broadband community task force
Inseego 5G MiFi mobile hotspots, which deliver fast and secure broadband connections to laptops and other Wi-Fi devices, are now being distributed through 26 HCPL branches and over 20 other community centers and organizations in the Houston area.
"There are so many different groups we're helping," explains Megan LeMaster, the HPCL Director of Research and Development who helped design this program. "Just last week I met with a group that's focused on economic development in East Harris County. They want to provide the hotspots and Chromebooks for the graduates of their small business training camp so they can get their businesses connected.
"We're also working with a group that teaches seniors how to use Amazon Alexa devices – not only to stay in touch with family members, but also to stay in contact with their doctors through telehealth and for services like Meals on Wheels. We're working with Interfaith Ministries to provide hotspots to recently settled Afghan refugees. And we're helping Texas Children's Hospital patients and their families connect to vital healthcare services. So this is not just a solution for students. It's a very holistic program."
Fast, easy, secure broadband access with 5G mobile hotspots
Online classes, remote work and healthcare consultations often involve videoconferencing, which requires a fast and reliable connection that doesn't lag, falter or fail. That's one reason why the FCC now defines a 'high-speed broadband' connection as at least 100 megabits per second (Mbps) download speed and 20 Mbps upload. Not all mobile hotspots can deliver this kind of performance, but Inseego 5G MiFi hotspots (which also provide high-speed 4G LTE connections) are widely recognized as the best in the market.
Whether it's children using the internet or patients accessing medical records, having a secure connection is also essential. Designed and developed in the U.S., Inseego hotspots are CIPA-compliant, and provide many levels of password protection, encryption and Wi-Fi security.
For some new broadband users, getting connected for the first time may seem like a daunting experience, so it's important that their devices are easy to use. "We include a simple quick-start guide with the hotspots and it's really just a few steps to get going," says LeMaster. "Together with the digital literacy courses we're providing, and a special 1-800 number for tech support, we're setting up these new digital citizens for long-term success.
"We're thrilled that we can provide Inseego's MiFi 5G hotspots to support almost any need, with incredible speed, security and simplicity. We've done a few speed checks across the county and we're seeing very fast and reliable throughput, which is a critical piece of the puzzle when working to ensure digital equity."
The Inseego mobile hotspots are now available at all HCPL locations until June 30th.
About Inseego Corp.
Inseego Corp. (Nasdaq: INSG) is an industry leader in smart device-to-cloud solutions that extend the 5G network edge, enabling broader 5G coverage, multi-gigabit data speeds, low latency and strong security to deliver highly reliable internet access. Inseego's mobile broadband, fixed wireless access (FWA) solutions and software platform incorporate the most advanced technologies (including 5G, 4G LTE, Wi-Fi 6 and others) into a wide range of innovative products that provide robust connectivity indoors, outdoors and in the harshest industrial environments. Designed and developed in the USA, Inseego products and SaaS solutions build on the company's patented technologies to provide the highest quality wireless connectivity for service provider, enterprise, and government entities worldwide. www.inseego.com #Putting5GtoWork
About Harris County Public Library (HCPL)
The HCPL mission is to provide information and resources to enrich lives and strengthen communities through innovative services within and beyond our walls. The Library has an annual circulation of over 10 million items and is a network of 26 community-focused branch libraries committed to providing excellent customer service, strong collections, and cutting-edge information technology. Visit www.hcpl.net for more information.