Return to case studies
Commhoist track cranes & logistics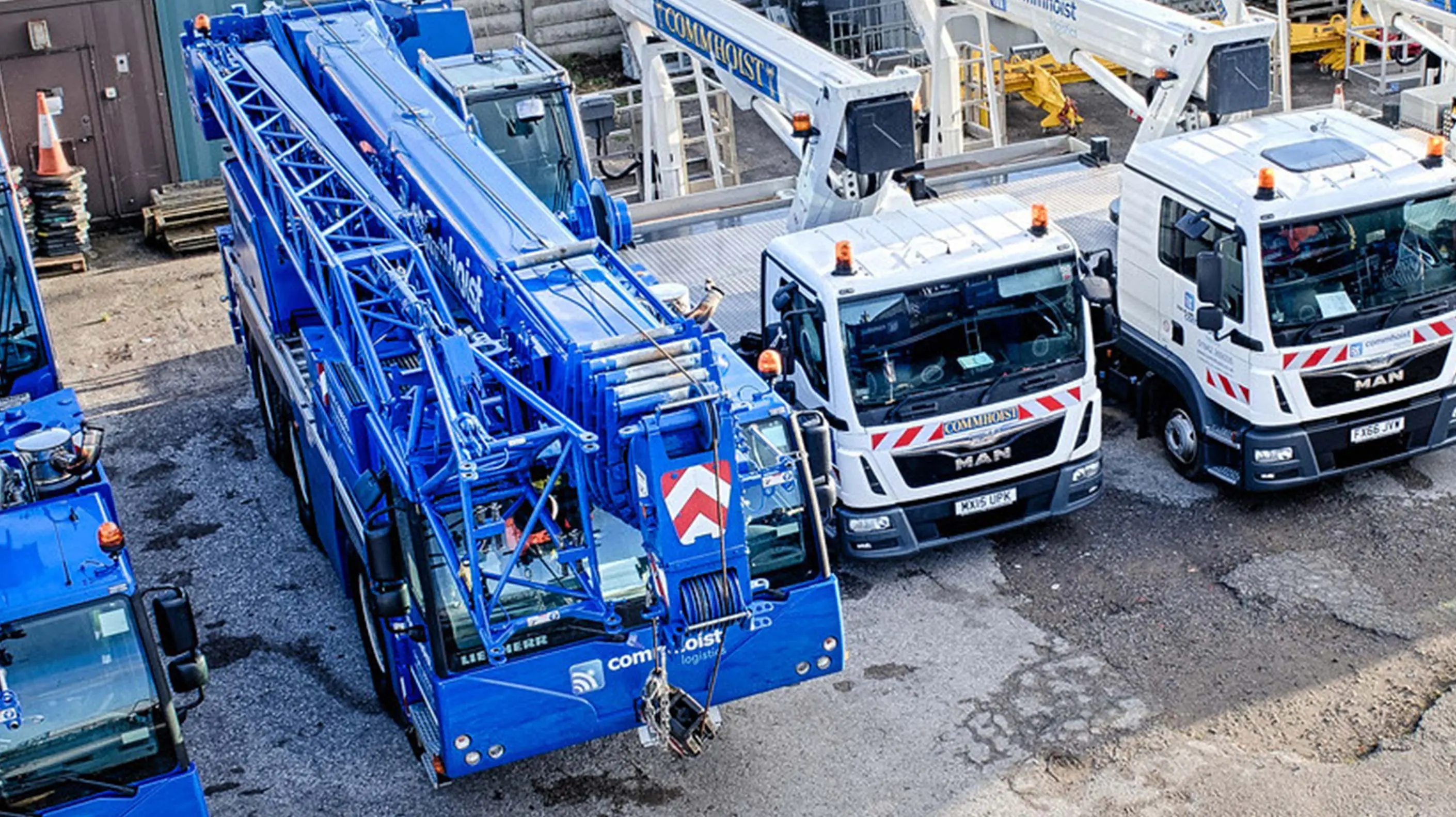 Commhoist Logistics
Background
Industry: integrated lifting and logistics service provider
Fleet Size: 49
Fleet Details: Vans, light comercial vehicles & specialist cranes
Commhoist is a leading provider of logistics, lifting, and associated management services to the communication and commercial market sectors. From its head office in Lowton, Warrington, the company uses a sophisticated fleet of assets to handle projects for blue-chip clients such as Vodafone, O2, Ericsson, T-Mobile, Three, Orange, Everything Everywhere, and CTIL.
Vehicle Tracking
Commhoist uses Inseego to monitor a fleet of 49 commercial vehicles, including specialist vehicles fitted with mobile elevated working platforms, so it can immediately see the location and status of resources in the field. It provides the office-based operations function with greater visibility and control to support day-to-day planning and ensure remote teams are meeting customer requirements. The system also provides live traffic information, so it is possible to identify any potential issues with congestion and alert customers that delivery is running late.
Features
Live vehicle tracking
Driver behaviour monitoring
Fleet and workforce reporting
Accident investigation and issue resolution
Benefits
Increased productivity and asset utilisation
Reduction in admin and overtime claims
Protection against false allegations
Improved road safety
30+ years of fleet tracking success in the UK
Fleet Reporting
Inseego's fleet reporting package provides an overview of key performance data. For example, a movement report helps Commhoist to understand exact levels of activity and verify staff timesheets. This has enabled the company to not only simplify time-consuming administrative processes but also reduce staff costs such as overtime claims. Historical data is also used to investigate complaints or insurance claims involving its vehicles, so Commhoist can quickly prove liability and resolve any fleet issues. Meanwhile, for non-tachograph vehicles, the company can monitor driver hours to ensure compliance with working time regulations and as part of its duty of care commitment.
Driver Behaviour
The Driver Performance League Table allows Commhoist to effectively identify the best and worst performing parts of the business along with areas of improvement. Employees are placed in the Green, Yellow, or Red Band for each exception (harsh acceleration, braking, and cornering, as well as speeding and excess idling) based on their driving style, with an overall score calculated to enable a simple ranking system. Therefore, the company can engage with underperforming drivers to encourage greater levels of safety and efficiency.
"We have been using the Inseego system for several years now and it has become an important management tool that is contributing to higher levels of productivity, service delivery, fleet efficiency, and road safety. It is both functional and easy to use, providing simple access to the real-time and historical information we need to better manage our business. This is backed up by highly-responsive support from the team at Inseego, who are always on hand to provide any help we need."

-Damian Biggs, Commhoist Logistics