Mobile hotspots
Inseego MiFi8000
Reliable, secure internet with gigabit-class speeds
Features & specifications
Features:
Up to 16 connections (15 via Wi-Fi or USB)
Up to 1.2 Gbps download speeds
All-day connectivity*
Rapid charging
2.4" color touchscreen for easy device management
Customizable enterprise-grade security
Wi-Fi security and protected setup
Industry-leading anti-hacking features
Advanced administrative capabilities
VPN pass-through & more
MiFi Share file sharing
Universal Charging support
Chipset:
Qualcomm® Snapdragon™ X20 LTE Modem
Network technology:
Global CAT 18 LTE, quad-band
HSPA+/UMTS
Data speeds:
Up to 1 Gbps download speed **
Battery:
4400 mAh Li-lon battery with Quick Charge technology
Battery usage time of up to 24 hours *
Wi-Fi:
802.11 b/g/n/ac
Up to 15 connected devices
Dual-Band Simultaneous (2.4GHz & 5GHZ)
Wi-Fi Security (WPA/WPA2)
Wi-Fi Protected Setup (WPS)
Wi-Fi privacy separation
sGPS w/XTRA
Ports:

Dual TS-9 external test ports
USB-C for universal charging and MiFi Share file sharing support
4.45 x 2.80 x 0.75 in (113 x 71 x 19.15 mm)
Dimensions & weight: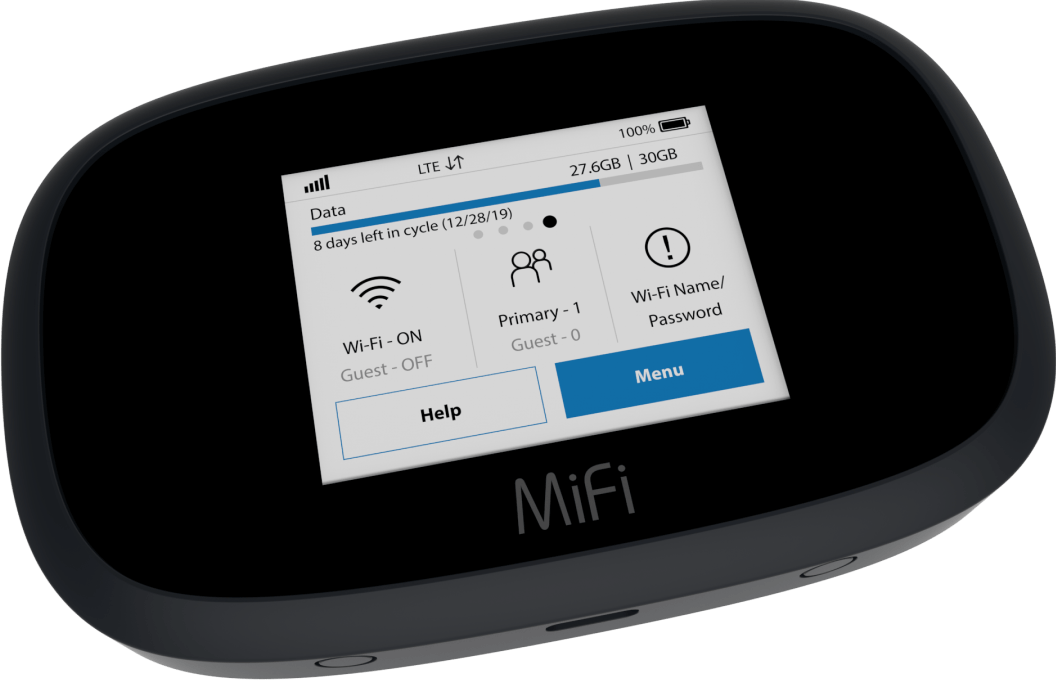 Height:
4.45 inches (113 mm)
Width:
2.80 inches (71 mm)
Depth:
0.75 inches (19.15 mm)
Weight:
5.36 oz (152 g)
Operating temperature:
14 °F to 131 °F (-10 °C to 55 °C)
Security features:
On-board VPN
MAC address filtering
NAT firewall
Port filtering
Security hardened web interface
Password hash
Anti-CSRF
Session timeout
Incorrect password lockout
Web UI operating systems supported:
Compatible with all major operating systems. Works with the latest versions of browsers, including Google Chrome®, Firefox®, Internet Explorer®, Safari™ and Mobile Safari™.
* Battery life may vary depending on the number of connected devices and activity.
** Speeds achieved by connected devices vary based on network coverage, Wi-Fi connection and device capability.
Product documentation
Product documentation
Access product documentation for all Inseego devices and software solutions. Here you'll find our product manuals, quick start guides and user guides, you'll also find driver and firmware updates.
How to buy
Business
Our team of experts are here to ensure you find the right authorized partner for your business needs.
Talk to sales - International
+1 541-685-9045
Talk to sales - U.S (Toll Free)
800-683-4818
Expert advice on where to buy
Personal
Available now from these retailers.