GPS fleet tracking devices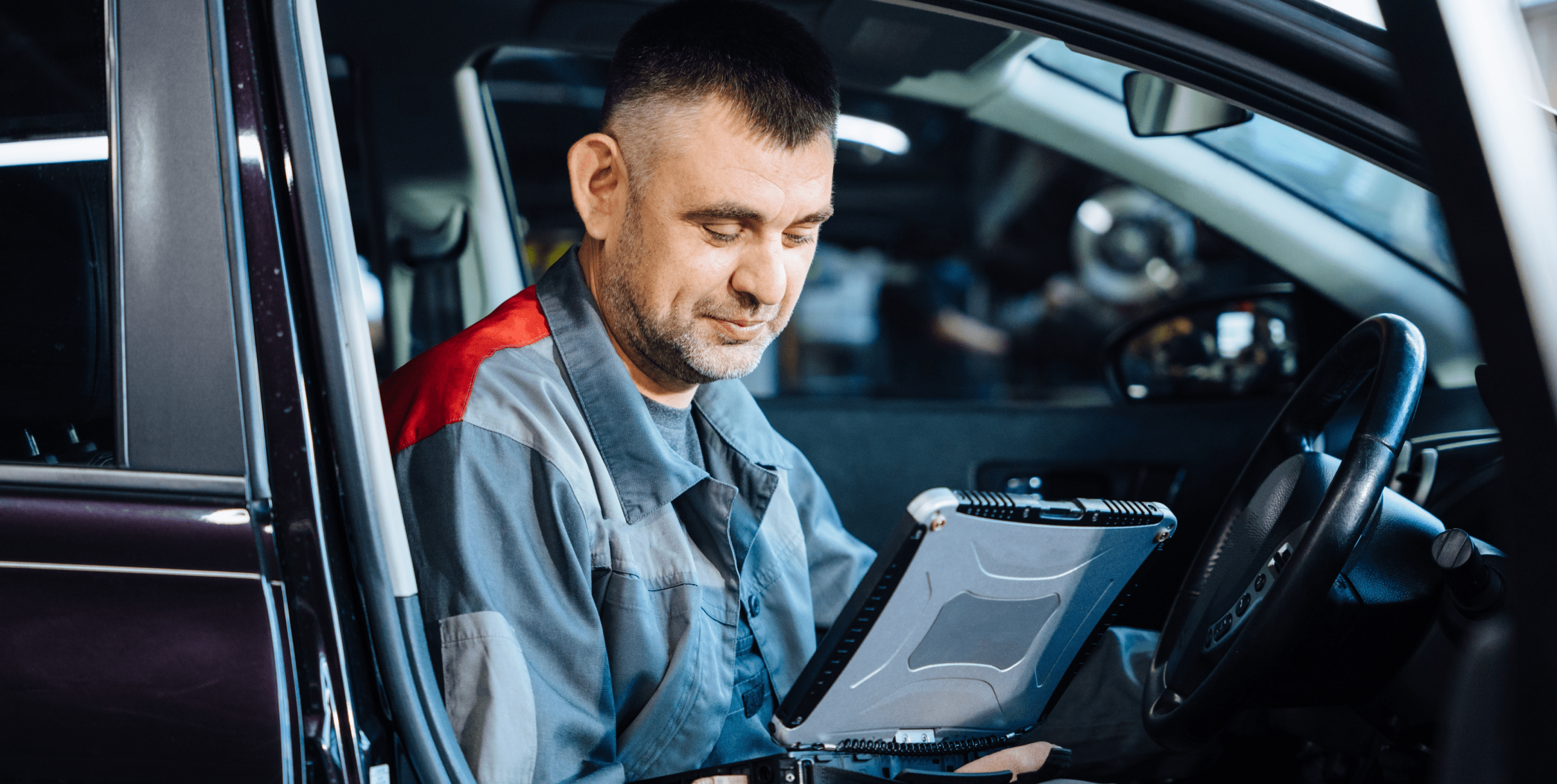 Fleet tracking uses electronic tracking devices fitted to tracked assets to monitor their activity. There are a wide range of fleet tracking devices that are designed to suit different purposes, and track different metrics (e.g. movement or location)
We offer tracking devices to suit your fleet and your budget, from basic plug and play car GPS trackers that can be installed in a few minutes, to battery powered asset trackers, and GPS tracking solutions that record a lot of detailed data.
This detailed data feeds through to Inseego's real-time telematics solution to help business owners manage their mobile workforce with up-to-the-minute information on what's happening in the field.
What can be tracked using electronic tracking devices?
It's not just vehicles that can be tracked with GPS tracking devices. They can be added to basically any asset, powered or non-powered, moving or stationary. Vans, trucks, passenger vehicles, cars, containers or construction equipment — the options are endless.
Who uses fleet tracking devices?
Real-time tracking devices, or GPS asset tracking devices in general, are becoming standard equipment for anyone managing a mobile workforce. The real-time visibility it gives is invaluable when managing a decentralised team, and making efficient use of available resources. Fleet managers, operations managers, maintenance managers or safety managers can gain a lot from deploying vehicle GPS trackers across their fleet.
Where is a GPS tracking device installed on a vehicle?
The requirements of your business and the type of vehicles in your fleet will inform what kind of tracking device is best suited for you and therefore the particular type of installation.
Simple GPS vehicle tracking devices are available as a plug and play solution. In just a few minutes these GPS devices can be plugged into the vehicle's OBD-II port, generally located somewhere near the steering wheel towards the bottom of the dashboard (consult your vehicle's manual for more information).
GPS tracking devices can also be hardwired in, and connected directly to the vehicle's power. Generally, these are fitted near the fuse box with the antenna positioned somewhere near the windscreen (underneath the dashboard). Hardwired GPS trackers can also be attached to peripheral devices like SOS buttons and tachograph head units.
Electronic tracking devices can sometimes also be installed in the engine bay, near the front windscreen.
Frequently asked questions
How do GPS tracking devices work?

The GPS technology used in fleets uses the mobile data network  (2G/3G/4G) to send GPS location data (and other data) to an internet cloud server, where it can be used as part of a telematics software solution.

Car trackers normally connect to the vehicle's power supply, but they can have their own battery power supply (or, at a minimum, a backup battery). A SIM card in the vehicle tracking device is activated when the power is connected, and this connects to the mobile data network. When the device's location is fixed (this normally takes up to a minute) then it starts reporting its current location, and any other data it is collecting.
What is the difference between a GPS tracker and a fleet tracking device?

A GPS tracker normally refers to any tracking device, not just devices used with fleet management software. This might include even very mini GPS trackers that a parent might use to know the whereabouts of their child, personal GPS beacons, or pet  trackers. Pricing for these types of trackers are normally cheaper due to their simplicity.

Fleet tracking devices are often larger, and purpose-built for tracking additional business critical data and can include bluetooth and wifi connectivity. For example, a fleet that transports refrigerated goods will plug in a temperature sensor to the fleet vehicle's tracking device so this information can be reported along with GPS location data. A field service company may monitor the day-to-day trips of their entire fleet to optimise the routes taken. Some commercial vehicles have OEM tracking devices fitted at the factory.
What does a GPS fleet tracking device look like?

Tracking devices are generally small black boxes, a few centimetres in size. The plastic box, which can be opened, contains the electronic circuitry, a backup battery and a SIM card slot. Depending on the tracking requirements, different types of devices for basic location tracking.
What data does a fleet tracking device collect?

Most commonly, GPS tracking devices are used as vehicle trackers, to track real-time location. But electronic tracking devices can track a lot more than just location. Devices are available that include sensors for impact, fuel consumption, harsh braking (or acceleration) or excessive idling to name a few.
How can I access data from my GPS tracking device?

The electronic GPS tracking device uses a network connection to transmit the data it's collecting. In most cases, this will be a mobile data connection (e.g. 4G) using an activated SIM inserted into the device. These networks connect to the internet to send this data to an online fleet management solution, where a user can login on their desktop computer, or mobile device and view the collected data.

In addition to sending data via the internet, GPS tracking devices can use a built-in SIM to send SMS notifications directly to a mobile phone.
What are the benefits of fleet tracking devices?

The information fleet tracking devices collect can be used to improve the overall success of a business including reducing operating costs through reducing wasteful driving or excessive idling, improving driver safety by monitoring dangerous driver behaviour, such as harsh braking, or extending the lifespan of tracked assets by reporting on engine diagnostics, servicing needs and trouble codes.

Monitoring fleet operations with GPS tracking devices and a vehicle tracking system can minimise operating costs, reduce fuel costs, improve driving behaviour and add functionality such as electronic timesheets. Geofences can be set up to alert of out of hours usage or potential thefts.