5G-WLAN-Zugang, der in wenigen Minuten bereitgestellt werden kann
Erhalten Sie schnelles, zuverlässiges und sicheres Breitband fast überall – ohne Kabel.
5G-WLAN-Zugang, der in wenigen Minuten bereitgestellt werden kann
Erhalten Sie schnelles, zuverlässiges und sicheres Breitband fast überall – ohne Kabel.

Für jedes Unternehmen entwickelt
Egal, ob Sie ein globales Netzwerk, einen großen Campus, ein kleines Büro oder von zu Hause aus arbeiten, Inseego Wavemaker Fixed Wireless-Lösungen können Ihr Unternehmen verbunden und sicher halten. Profitieren Sie von der Leistung und Flexibilität von 5G mit einer breiten Palette speziell entwickelter 5G-Geräte, ideal für Innen- und Außenbereiche in städtischen, vorstädtischen und ländlichen Gebieten.
Sichere Geräteverwaltung mit Inseego Connect
Multi-Gigabit-Geschwindigkeiten*, die typische Kabelverbindungen übertreffen können
Verbesserte Abdeckung mit Unterstützung sowohl für Sub6- als auch für mmWave-5G-Frequenzen
So funktioniert es
Festverbindungen für drahtlosen Zugang (FWA) nutzen Mobilfunkdaten (4G/LTE und/oder 5G), um Breitbandinternet in ein Privat- oder Geschäftshaus zu bringen, ohne dass Kabel benötigt werden.
Mittels einer 5G-Outdoor-Gateway- oder einem 5G-Indoor-Router erhalten die Nutzer hohe Geschwindigkeiten, geringe Latenzzeiten und eine insgesamt gleichwertige oder bessere Performance als herkömmliche Kabel-, xDSL- oder Fiber-Connection.
Mit hochleistungsfähigen, richtungsweisenden Antennen kann Inseego die Stärke Ihrer 5G-Verbindung verstärken und so die Geschwindigkeit und Zuverlässigkeit Ihrer Netzwerkverbindung verbessern - auch in entlegenen Gebieten.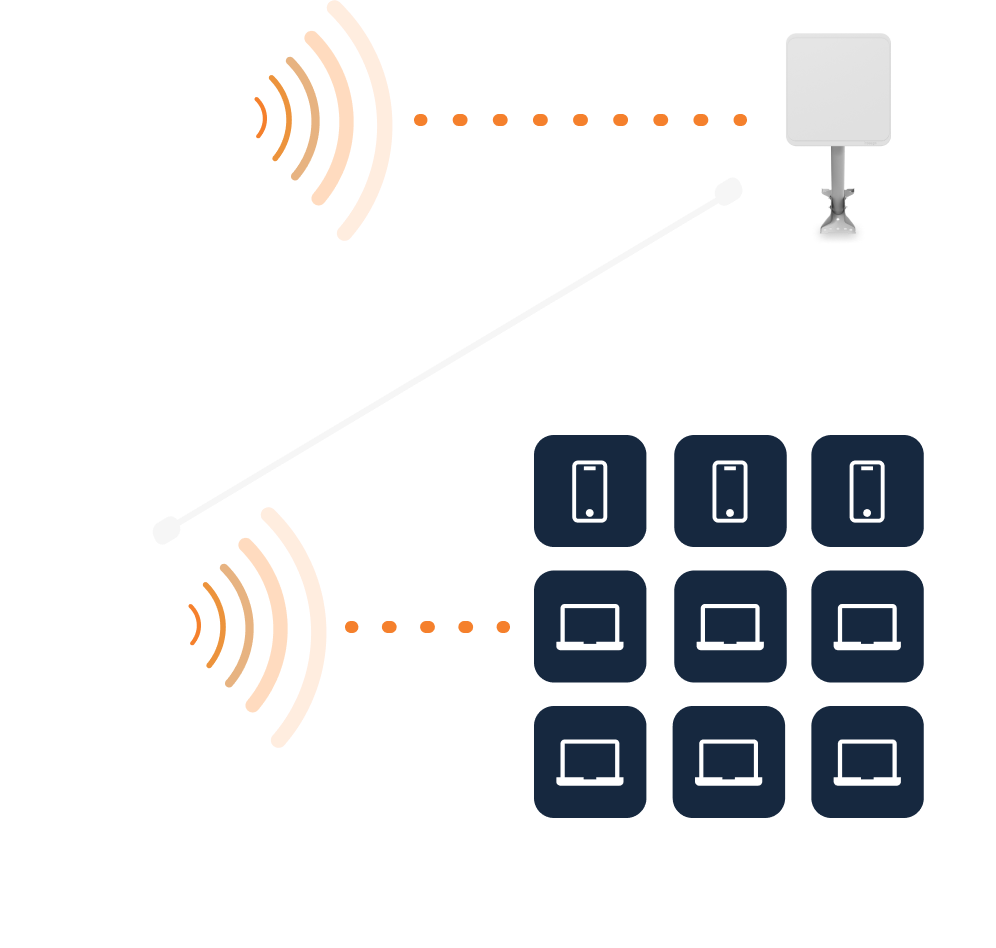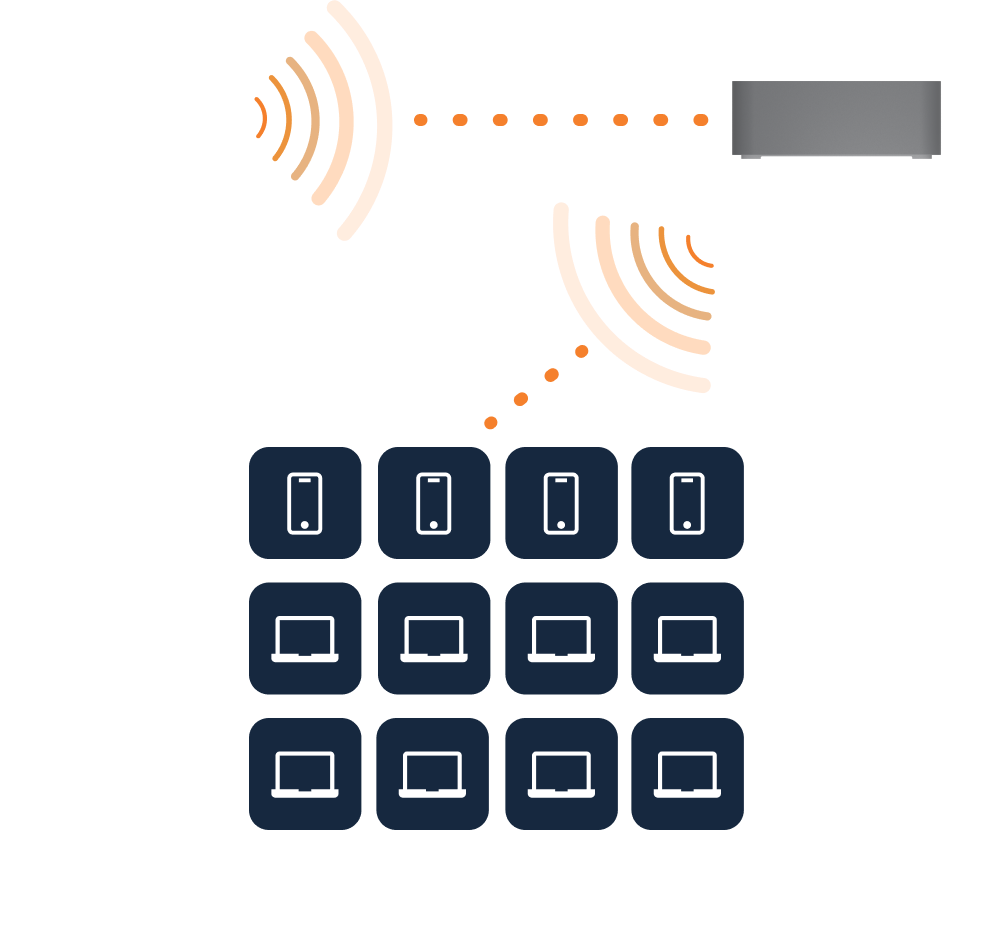 Fortgeschrittene Sicherheit auf jeder Ebene
Mit Komponenten von vertrauenswürdigen Lieferanten erbaut
Strenge, unabhängige Sicherheitstests
Die Inseego Manage-Abonnementdienste umfassen OpenVPN, Zugriffskontrolle, End-to-End-Gerätesicherheit, aktive Bedrohungserkennung, Beseitigung, Alarme und mehr.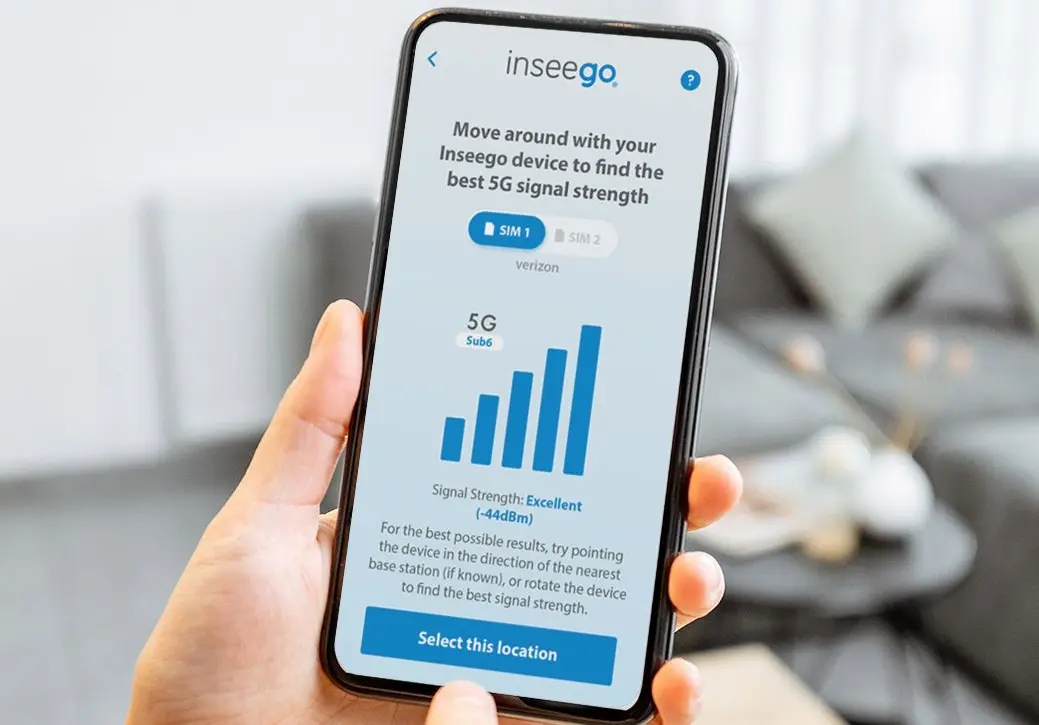 Schnell und einfach aufzubauen
Indoor-Router zum schnellen und kostengünstigen Einsatz
Outdoor-Gateways sind einfach zu installieren, mit einer Vielzahl von Montageoptionen
Die Inseego Mobile App ist verfügbar, um Benutzern bei der Suche nach der optimalen Position für die Installation zu helfen, die Leistung zu überwachen und Probleme zu beheben.
Verwenden Sie die Inseego Mobile App, um die beste Position für Ihr Gerät zu finden.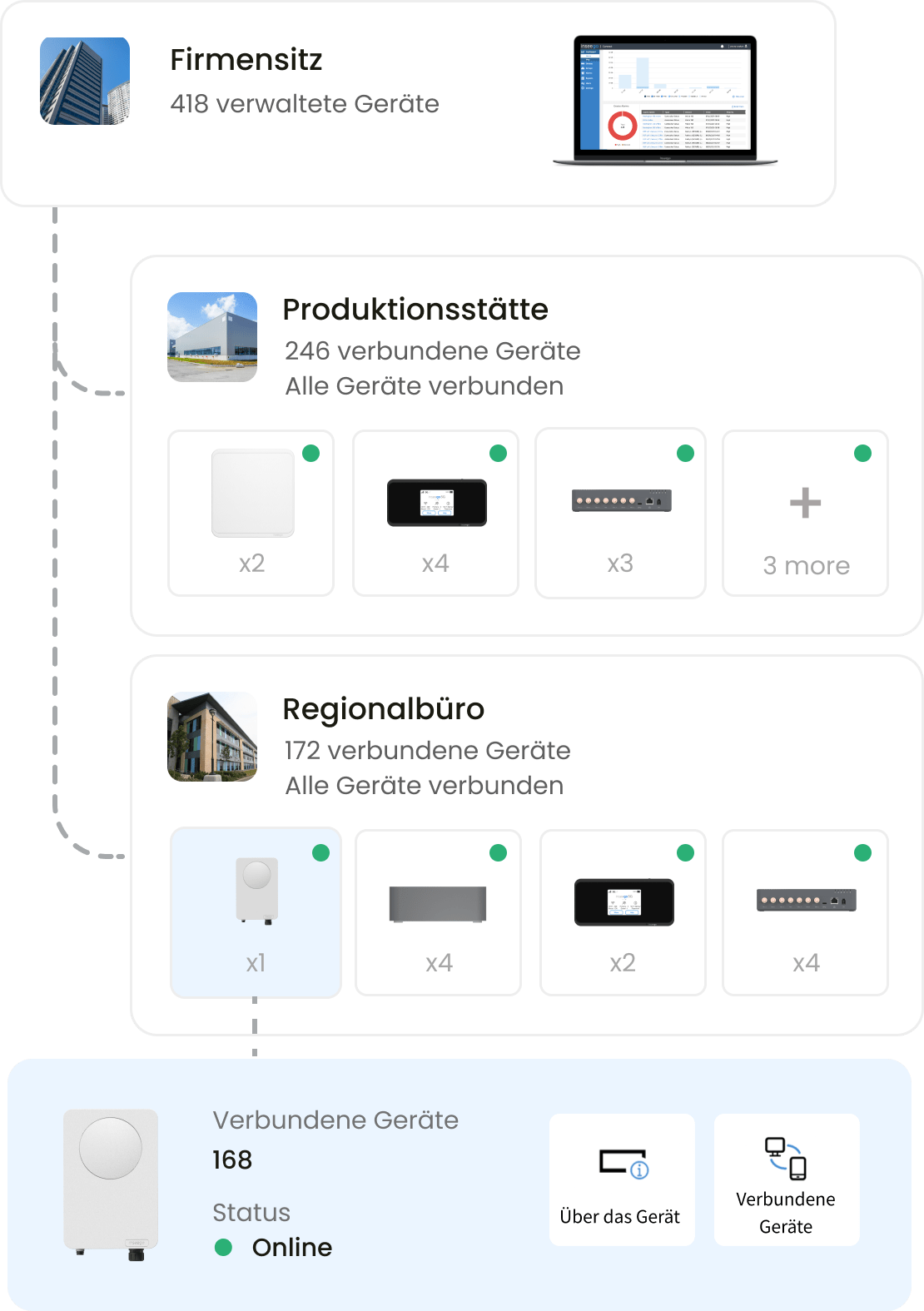 Verwalten Sie alle Ihre Inseego-Geräte von überall
Alle Inseego Wavemaker 5G PRO-Lösungen unterstützen Inseego Connect, eine abonnementbasierte SaaS-Lösung, mit der es Administratoren leicht gemacht wird, alle Geräte in ihren Unternehmens- und loT-Netzen zu installieren, zu überwachen und Fehler zu beheben.
Mit einem webbasierten Dashboard können Administratoren Geräte remote konfigurieren, Datennutzung verfolgen, Updates installieren und Netzwerkgesundheit überprüfen. Steigern Sie die Effizienz Ihres Tech-Supports, minimieren Sie die Überziehung von Daten und verbessern Sie die Sicherheit Ihres Netzwerks mit Inseego Connect.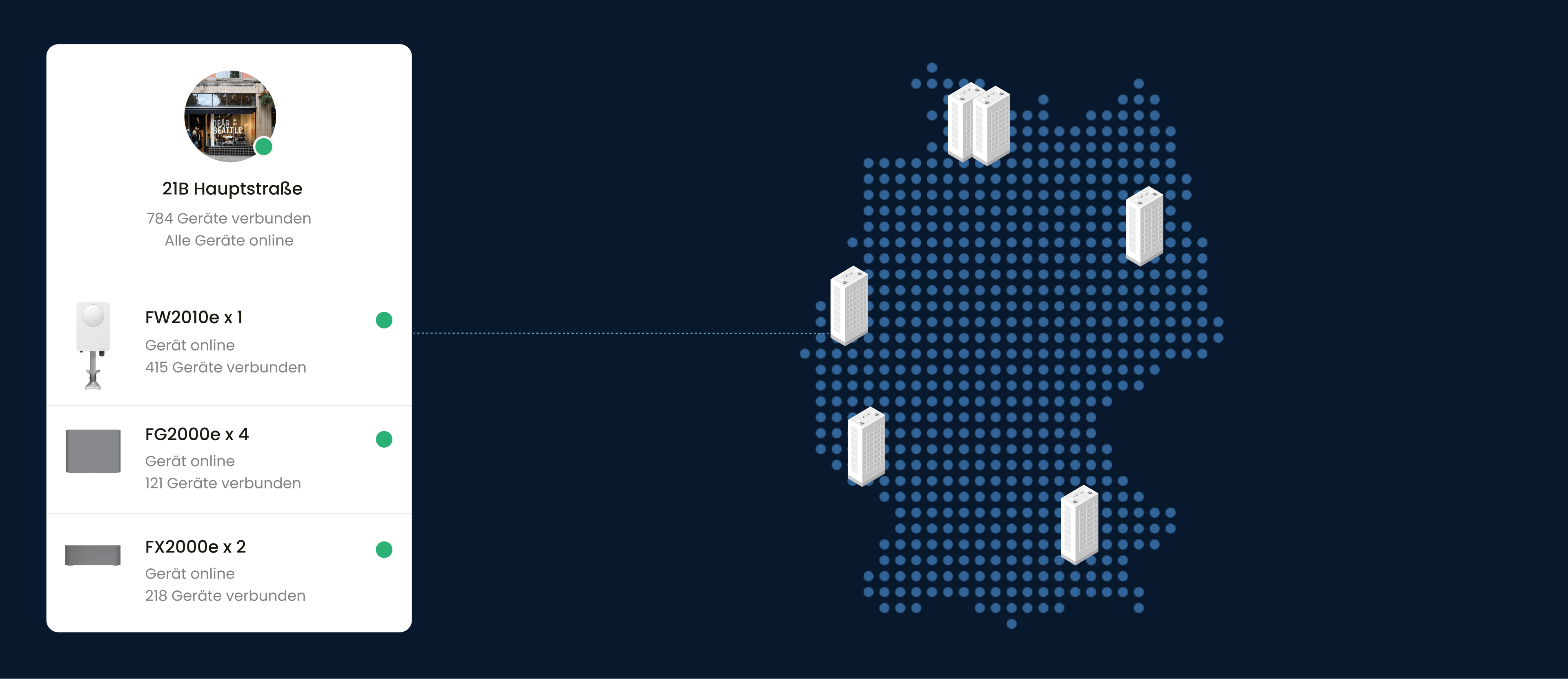 Für anspruchsvollste Anwendungen konzipiert
Egal, ob Sie temporäre Standorte unterstützen, Zweigstellen verbinden, ein privates Wireless-Netzwerk bereitstellen oder eine zuverlässige Verbindung in einer überfüllten Stadt aufrechterhalten müssen, Sie können mit 5G und 4G mit unternehmenskritischer Leistung ultraschnell genießen.
Dual SIM für automatische Ausfallsicherung
Mit zwei SIM-Slots kann Ihr Inseego-Gerät so konfiguriert werden, dass es automatisch zwischen den Netzbetreibern wechselt, basierend auf dem stärksten Signal, Daten-Schwellwerte oder andere Parameter, die Sie festlegen. Keine Unterbrechungen, keine Ausfallzeiten!
Super-schnelles 5G und 4G für öffentliche und private Netzwerke
Die führende nachhaltige Durchsatzrate von weit über 1 Gbps sowie die blitzschnelle, geringe Latenzzeit von 5G bedeuten, dass Sie immer bereit sind, Geschäfte zu tätigen.
Bessere Reichweite. Bessere Leistung.
Mit Inseego-Geräten müssen Sie nicht zwischen Leistung und Reichweite wählen. Wählen Sie aus leistungsstarken Indoor- und Outdoor-Lösungen für zuverlässiges, schnelles Internet, wo immer Sie es benötigen.
Unternehmenssicherheit
Mehrere Ebenen der Verschlüsselung, verbesserte Wi-Fi-Sicherheit, eingebaute VPN-Unterstützung, IT-Administratorensteuerungen und andere Funktionen bieten eine starke Sicherheit auf allen Ebenen.
Besser für die Geschäfte - Im Büro oder zu Hause
Inseego 5G-Lösungen bieten viele Vorteile für die drahtlose Geschäftskommunikation. Schnelle Bereitstellung, schnelle Verbindungsgeschwindigkeiten, verbesserte Reichweite, zuverlässigere Verbindungen und einfachere Sicherheitsverwaltung. Bereit loszulegen? Wir sind es.
Wavemaker 5G outdoor CPE FW2000 series
Reliable high speed 5G & 4G
High gain (up to 14dBi) directional antennas
IP67 rated
Dual SIM support
5 Gbps ethernet & PoE support

Wavemaker 5G outdoor CPE FW2010 series
High speed, low latency 5G & 4G
High power mmWave antennas
IP67 rated
Dual SIM support
5 Gbps ethernet & PoE support

Wavemaker 5G indoor router FX2000 series
Compact, versatile 5G & 4G router
Dual band Wi-Fi 6 up to 30 clients
External antenna support
Dual SIM support
1 Gbps LAN port
Wavemaker 5G indoor router FG2000 series
Advanced 5G indoor router
Dual band Wi-Fi 6 up to 128 clients
External antenna support
Dual SIM support
Multiple LAN including a 5 Gbps port
Wavemaker 5G industrial gateway S2000 series
Industrial grade 5G + 4G gateway
Designed for 24/7 operation
Multiple power, mounting and antenna options
Dual SIM support
5 Gbps LAN + PoE support
* Die tatsächlich erreichten Geschwindigkeiten hängen von Netzabdeckung, Verfügbarkeit und Anzahl der verbundenen Geräte ab.